Get 20% off using our exclusive coupon code from Themify. Themify is not only producing great WordPress themes and plugins, but they also offer very customer-sensitive support that makes it stand out from the rest. Not only this, but it is also becoming a fast-growing company with its customer base crossing the 100,000 marks. Their themes are perfectly suited for corporate, business, e-commerce, blog, magazine, restaurants, musicians and artists, photography, and any other needs. Each theme is deeply integrated with the powerful page builder from Themify and comes with a variety of pre-built layouts.
About Themify
Themify is a popular WordPress Themes developer that currently offers over 54 high-quality themes and powerful plugins that are ready to use and very easy to customize.
Themes
The name that first pops into my mind is Ultra. Ultra is the most versatile and flexible WordPress theme which helps you in creating beautiful, modern, and mobile-ready websites. The theme includes design skins and pre-made demo sites to build your dream site within minutes. All you need to do is just replace dummy text with relevant content. As a result, you can save your time, money, and quickly get into the business. Moreover, the recent updates in the themify builder have further streamlined the interface, increasing the workspace, and most importantly added live preview.
With their themes, you can actually create unlimited layouts using drag and drop builder, slider background, image and video background, parallax scrolling, content animation, custom styling, header and footer styles, color animation, and much more.
Plugins
They also produce very useful plugins and one of them is the page builder plugin. The Themify Builder plugin is an ultimate drag and drop page builder that comes with 50+ professional designs to get you started quickly and integrates flawlessly with any third-party WordPress theme. Themify page builder lets you create beautiful and responsive webpages with powerful editing experience and using drag and drop features. You can preview the changes live in the frontend edit mode option.
The Post Type Builder is another great WordPress plugin that you can use for seamlessly creating custom post types and layout templates with an intuitive drag & drop interface. To learn more about this plugin, read our complete article on Themify Post Type Builder review. In that article, we have demonstrated how one can build the property listing website using themify's intuitive page builder plugin.
If you want to learn more about their products and services, you can read a detailed themify review that we wrote a few days back.
Membership Plans
Themify has an attractive pricing model. As you can see below, Master Club is the most popular and affordable pricing option that gives you full access to all themes and plugins at the price of just $89. Plus, every purchase comes with a 30-day money-back guarantee to protect your money.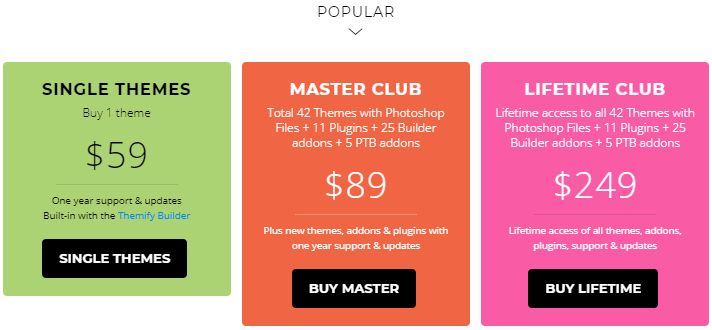 How to Redeem Themify Coupon Code?
Our exclusive themify coupon code can help you get a discount of 20% on Themify themes including all club memberships. Simply follow the instructions below to redeem themify coupon code for big savings on new purchases or subscription renewals.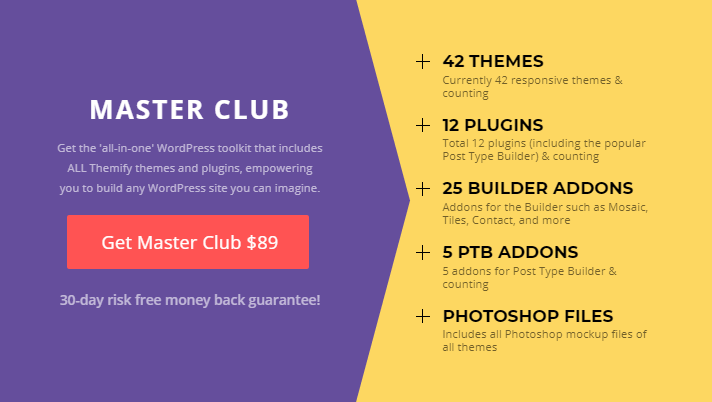 First, you need to visit the themify.me and go the pricing page from the main navigate menu (Themes » Pricing).
Select the single theme or club membership you want to buy. After you've decided on the right pricing option, click on the Action button (e.g. BUY MASTER) and it will take you to the signup page.
Here, you need to provide personal information to setup your themify account to get access to both free and paid purchases.
Scroll down to the bottom, and you will see the field to enter the themify coupon code.
Enter our code savvytheme in the coupon text field and click on the "Next" button to continue.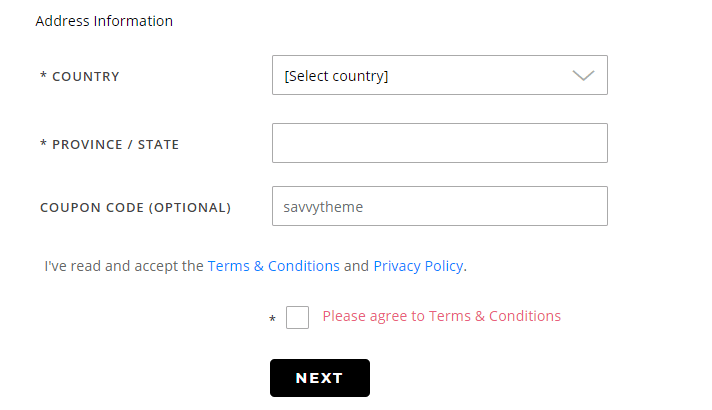 This will take you to PayPal where you can securely make your payment and complete your purchase.
Don't forget to verify the membership cost on the payment site. If you have applied our coupon code correctly on the signup page, you will see a flat reduction in price on the PayPal checkout page.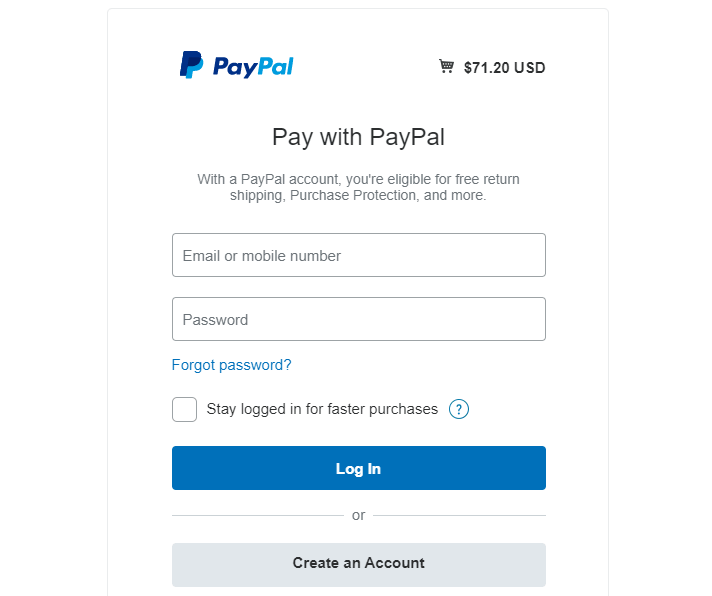 If you encountered any problems during payment using our code, please inform us so that we can take it up with the Themify support team.
Themify Coupons
You can get up to 40% off on your purchases on Themify.me at special moments like Black Friday or Anniversary Sale. For this, you can subscribe to the newsletter to get exciting offers and news from Themify right in your inbox.

That's it.
Looking for more deals? Checkout these best deals on SEO tools and blogger tools.
Disclaimer: This post may include affiliate links. If you click one of them, we may receive a small commission at no extra cost to you. Thank you for your support.