How to Start a Blog (Guide for Beginners)
Have you ever thought of starting your own blog? But then, for some reason, you couldn't eventually convert that idea into reality? What was stopping you back then? Was it too scary? 👻 Or did you have any doubts like whether to blog something "work-related" or "personal"?
The challenges most people face while starting a blog are in the initial days, when you need a lot of patience and determination. Again, the main challenge faced by newcomers is to—produce unique and original content relevant to their blogging niche, in need of increasing website traffic.
One of the best ways to break through this wall and stay motivated for blogging is to learn from others. Follow the path of successful bloggers who have been blogging for many years and wade through their experience. That will certainly help you specially to avoid repeating the same mistakes that they had suffered in the past.
It takes some commitment to start a new blog, but we know everyone is capable of making it, even if you've never written an article before. Plus, we've tools to help you.
How to Start a Blog in 2022 (Step by Step)
To make it easier for you, we've put together everything you'll need in the right order—step by step.
So, let's just dive right in. 😉
1. Choose a lucrative niche for your blog
Before you start blogging, make sure you understand your niche. Simply put, you need to be well versed in the topic you are going to blog about.
Picking a market or niche for your blog is the first and most important decision to make in your blogging journey. By identifying what you are going to talk about, how you will create unique content and what value it will bring to readers, you will be better prepared for a systematic approach to planning and executing your ideas.
"Two important and upfront factors for anyone who thinks of starting a new blog: a passion for writing, of course, and the second is a topic that attracts readers with a common interest."
While passion is an incredible driving force that propels you in your daily endeavors to get things done, it's actually your knowledge or area of expertise that will help prolong your blogging career. In the end, it's the balance of the two that will keep you moving.
Nonetheless, picking a niche when starting a blog can still be tough as nails for most people.
If you find yourself among them, pay attention to two important things:
1) Ask yourself what you are an expert in or are passionate about?
What is important when starting a blog is to ask yourself what you are good at or are passionate about?
It's true that blogging does not require any formal qualifications. You could start a blog on a topic with zero knowledge. However, if you have taken an interest in building a blog from past experiences, it probably would be the best way to move forward.
That said, you don't necessarily need to be an expert in the field. It certainly depends on the niche you choose. For example, unless you want to start a tech blog to help others solve problems like improving performance or solving complex issues with a single/unique piece of code, you can just start a blog depending on what excites you the most.
The best way to start is to jot down your ideas and make a list. At first, you can literally put anything you can think of in this list, such as sports, travel, music, training, hobbies, interests, etc. Then, as you narrow down the list, you should end up with at least three or four ideas that you will pick for the next round. Do market research for each idea, assign a number from 1-5 for each idea—5 being a great niche blog.
2) Is your niche too competitive?
When picking a niche for your blog site, avoid broad niche like "biking".
No doubt you may have a strong passion for cycling, but you will not be able to publish enough content that will cover all aspects of cycling.
Instead, focus on something specific that you can fill your site with content your readers will love to read or watch. You could refine your niche to create a site on "mountain biking" or one step further "extreme mountain biking".
2. Give your blog an online identity
To set up your own blog space and give it a unique identity, you will need two things: a domain name and hosting.
Domain name gives your blog a unique online identity
"Choosing a domain name is an important decision you have to make as a blogger. Once you decide on a name, you will want to carry that name for the rest of your life."
In short, you wouldn't want to put yourself in a position where you could even think of changing it.
Hosting provides you space to make your blog accessible on the internet
Now that in the previous step, you have learned how to choose a perfect niche for your blog. After choosing the right one, it's time to find the best domain name for your niche site.
That being said, if you have already registered your domain, you can skip this part and go straight to the next step. Otherwise, keep reading…
So, what factors should I consider when finding a good domain name?
Finding a domain name for your website isn't easy anymore, when it seems so crowded out there in the internet domain space. Most searches for a domain, you will find that it has already been taken or is reserved by someone for resale.
Of course, that doesn't mean you should give up, all I'm saying is, be intentional about your strategy. Trust me, it may sound daunting but it's certainly not impossible to generate one that may still sound perfect.
Below are a few things you should consider when engendering the domain name for your blog.
Use domain extensions. Most registrars would like to register their domain using one of them. However, with the burgeoning popularity of Internet usage around the world, the need to add more detail was obvious. Today, you have over 1500 top level domains (a.k.a. TLDs) which will increase your chances of finding and registering domain with your preferred name. What might interest you the most is the ".blog" domain extension which is ideal to use for blogs. Just to give you an idea, this domain name could be perfect for any diver, MyScubaDives.blog
Add small words. Increase your chances of finding a name you may like for your domain. Try adding a prefix or success to your desired keyword to broaden your chances until you find something that suits you best, then narrow down the results further to what you like or dislike. For example, MyBloggingRoom.com
Keep it short and memorable. With the wide range of domain extensions, it's still easy to get a short and memorable name that truly represents the identity of your blog. Perhaps something like TweetRecipes.com
Avoid hyphen (unless necessary). The hyphen symbol, alternatively known as a dash, is the only space character you can put in your domain name. In general, avoid this letter unless you are out of ideas or options. But sometimes it can be interesting to have it, especially when the domain name is a bit long like for example WordPress-Importer.com. This makes it easier for people to read your domain name.
Did you know that a domain name can be up to 63 characters long except for extensions? It can only include a hyphen (-) symbol anywhere between the first and last character.
After you have picked up the domain name, it's time for you to set up your hosting account.
The web host I recommend is FastComet.
Get your blog started for as low as $2.75 per month.
FastComet currently lives up to its name with an aggressive pricing scheme. Right now, the hosting company is offering a 70% discount, bringing the costs down to $2.75 per month.
But then again what makes FastComet a great choice is that it outperforms most other players in the market when it comes to technical support.
Believe me, I'm not making it up; it's entirely based on my personal experience. 🙂
Before signing up with FastComet, I had tried a few other hosting providers, but none of them offered the value for money that FastComet offers today.
Register Free Domain (Lifetime)
To make it short, I've personally been using FastComet for several years now. Here are some of the top benefits that you should consider when choosing this host,
Backed by a team of experts focused on one thing – delivering stunning performance with extraordinary support. 24×7 customer support team ensures that we always have fast, polite and accurate answers.
They offer a free domain name with each hosting plan, which will result in a minimum savings of about $13 per year.
With a money-back policy, they guarantee that you can get your money back within 30 days of the date of purchase of any service from their website.
They offer affordable hosting for both high and low volume websites and their competitive pricing guarantees value for money.
FastComet has a world-class cloud hosting infrastructure that is curated to meet the performance and reliability that everyone needs.
Now that you've already discovered some of the benefits, it's time to complete the signup.
Go to FastComet and click "Start Now".
3. Setup your blog using WordPress (free software)
Creating a website might not be easy for everyone.
Of course, it depends on what kind of site you want to build—static or dynamic.
A static website is mainly made up of HTML and CSS, plus it is easy for anyone to learn and build a site with just static pages. On the other hand, if you want to create a blog, you will definitely need a web application that should be deployed on a web server. And, you must possess strong technical skills to be able to develop a dynamic website along with good database knowledge—to design the data store for blog content.
So unlike a static website, dynamic websites and/or blogs load their content from data source and typically content (updated…) is displayed to readers every time they browse the pages.
To cut the story short, developing a web application is not easy. Therefore, only option you have is to look for a ready-made application.
WordPress is a popular software (free) that was originally designed to allow anyone to build a website and was later evolved to meet the requirements of a CMS. As it's absolutely free, you can use it for your blog site too. Otherwise, you will spend hundreds of hours building your own blogging software or tens of thousands of bucks to hire a professional web developer or website design agency.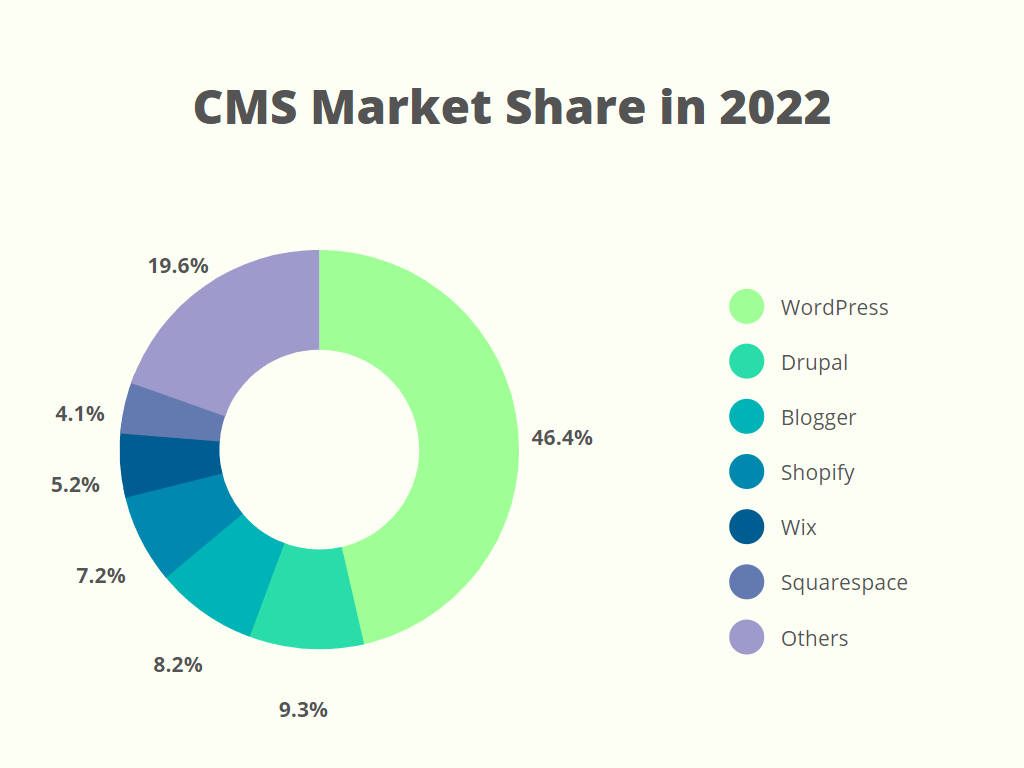 In fact, most blogs on the Internet use WordPress mainly because of its great extensibility and versatility, despite the fact that it has many rivals. As a result, we too will choose WordPress as the blogging platform for this course.
After you've registered with FastComet.com and signed up for the hosting plan, the next step is to install WordPress blogging software.
You can choose automatic (1-click installation) or manual mode.
You can set up WordPress quickly and effortlessly using one-click installers—like Fantastico, SimpleScripts, Softaculous. Depending on the web host you choose, you will most likely get one of these tools under the cPanel options.
They provide the easiest and fastest way to install WordPress on a web server, especially useful for beginners.
Should you choose manual or automatic installation?
In my opinion, although many hosts offer this option for automatic WordPress setup, I would still personally advise you to go for a manual process for a good reason.
The manual process will help you learn a few extra things and familiarize you with how you connect and work with the backend.
You might get your hands a little dirty, but it's actually a great way to get started with WordPress (and before you change your mind—let me say loud and clear that you won't need any technical skills).
Install WordPress Software (Best Blogging Platform)
First, let's look at the automatic installation of WordPress. In fact, you can complete it in 3 easy steps.
Use One-click WordPress Installer
You can use a one-click installer to setup wordpress in no-time. For this, you need to be signed into the FastComet cPanel.
Next, go to My Products section. Here, you will see the hosting plan you've subscribed to. Under the column Quick Actions, click on 'Access Panel' button and it will redirect you to another page which basically allows you to administer your website using a graphical web interface and gives you easy access to a variety of tools that simplify the web management process.
How to Install WordPress automatically in 3 Easy Steps:
Access Softaculous Apps Installer
Configure the WordPress Installation
Finalize the Installation Process
Step 1: Access Softaculous Apps Installer
Within your cPanel, you will be able to locate the Softaculous Apps Installer under the software category.
Click on Installer and search for WordPress. Under the Installation tab of the WordPress application page, press the Install Now button to initialize the setup.
Step 2: Configure the WordPress Installation
Before you begin the actual installation, there are a few things you need to configure. We have split them into sections for your convenience.
In the first section, you can choose the version of WordPress. By default, the latest version is pre-selected. Then specify the HTTP protocol you use (http or https), enter your domain name and the directory where you want to install your WordPress core files.
In the next section, you configure the site settings by entering your site name and site description. Skip the option for multisite (WPML) as you will not need it.
Then, an important one. To get access to the admin panel of your WordPress blog, you must have an admin account. In this section, you enter your username, password, and email address to set up your administrator account.
Did you know that many websites are hacked because they use username/password combination which is easy for hackers to crack? Hackers usually use brute-force attacks such as guessing passwords and usernames, trying password generator tools, using keywords for password and patterns, email phishing etc.
Therefore, choose your username/password combination carefully.
In the next section, you configure your database settings. Enter a name for your database and a prefix for the table name. Note, by default the installer automatically sets the value for you but you can override as you like.
You can choose to automatically update your WordPress blog to keep your themes and plugins up to date, as well as enable the option to back up your site regularly.
Step 3: Finalize the Installation Process
To complete the installation, click the Install button at the bottom of the page, and wait for the installer to download and install WordPress.
Remember, do not close the browser window during this process until the progress bar reaches 100%, otherwise it may break your WordPress installation.
If you have followed the steps correctly, you can browse your blog and see it live. Open a new tab in your browser, enter your domain name and press Enter. This will take you to the home page of your new blog.
You have learned how to use automatic installer for setting up your WordPress site.
Great work! 👏👏👏
Moving on to the next section which actually is optional. It's for those who want to learn how to install WordPress manually. So unless you are very curious to learn how to set things up if you were to do it manually, skip to the next step where we will see how to customize your WordPress blog.
Install WordPress Manually
So, what's the difference when setting up your blog manually?
As you noticed when reading the previous section, you did not manually install the WordPress software or set up your database yourself. Everything was done by the installer itself through a background job. So, it was really a piece of cake.
But it's not the same with manual setup. You need to perform several things on your own.
Let's look at the steps that you would take in a manual installation of WordPress so that you can better understand what sets the two apart, and why 1-click automatic installer is a favorable option over manual mode.
Overall, there are 5 steps that you'll need to follow.
How to Install WordPress manually in 5 Easy Steps:
Download the WordPress software (WordPress.org)
Upload WordPress to Hosting Account (cPanel)
Create a Database (MySQL)
Configure WordPress Settings (wp-config.php)
Run the WordPress Installer
Step 1: Download the WordPress software (WordPress.org)
The first step is to grab the WordPress installation package from the official website. To download (free of charge) the latest version, click on the link Get WordPress under the navigation menu and it will take you to the download page.
Step 2: Upload WordPress to Hosting Account (cPanel)
After the download is complete, use the File Manager within cPanel to upload the package (WordPress.zip) and extract its contents to the web root of your domain. Alternatively, you could do it with an FTP client, if you are familiar with one.
Normally, you should see the public_html folder which is the web root and you should extract the contents of your WordPress package in it.
Step 3: Create a Database (MySQL)
Navigate back to cPanel and click MySQL Databases under the Databases category. You will see the list of databases you have under your hosting account.
Let's start by creating our new database. Enter a name for your database and click the Create Database button.
Next, you need to create a new user account and grant it the appropriate database access privileges. This MySQL user account will be configured in your WordPress core settings to allow your website to communicate with the database you just created.
Make sure you write down the details somewhere, as you will need to use them later.
Now add the user to your database and give it full privileges.
Step 4: Configure WordPress Settings (wp-config.php)
For your WordPress blog to operate properly, you need to create a wp-config.php file. It's one of the core WordPress files that resides in the root directory where you extracted your WordPress package in Step 1.
This file is very important for your WordPress blog (or website) as it contains key basic settings such as your database host, database name, database user, and password. This information allows WordPress to communicate with the database to store and retrieve data. The file is also used to define advanced options for WordPress.
With the WordPress package, you get a sample of this core file wp-config-sample.php which you can rename to wp-config.php before editing.
Next, you need to fill in the database details which we obtained in step 3. Edit the wp-config.php file in File Manager and save the changes.
It is recommended that you keep this file locked so that it has read-only permissions to prevent any accidental changes later.
Step 5: Run the WordPress Installer
At this point, you can begin WordPress installation. Start by visiting your domain in your browser and fill in some details.
First, you will need to choose the language for your website. Click the Continue button.
Next, enter the site title and site description (tag line) for your blog. On the same screen, it will ask you to enter username and password in order to set up your new administrator account. Note down the username and password.
Finally, hit the Install WordPress button to complete the setup. Once the installation is finished, you can log in to the dashboard of your WordPress blog.
4. Customize your blog design
Now that you've finished setting up WordPress, let's take a look at how your blog may initially appear.
Before continuing, I would like to remind you again that it is recommended to always keep WordPress up to date.
So, let's first login to admin dashboard and finish a few important things in this checklist. Browse your new website by typing domain and then forward slash ("/") followed by "wp-admin". Like in the example below,
"yourdomain.com/wp-admin"
It will prompt you to enter the username and password. After successful authentication, you will be redirected to the dashboard page directly.
Here, if you see update notifications, apply them immediately.
Needless to say, backing up your WordPress is always a good idea before applying the theme or any plugin updates, as it helps you recover your site should anything go wrong during the update process.
Now, before you start writing your first blog post, I want to share some important tips on customizing your WordPress site.
Creating a blog site with WordPress gives you endless possibilities for customization, but above all a theme plays a primary role for the overall appearance. You can change the appearance, or look and feel of your blog for the whole site (globally) or for certain individual pages.
Install WordPress Blog Theme
Choosing a theme for a blog is an important decision you need to make as a website owner.
In fact, when you first install WordPress locally or on a web server, it comes pre-installed with the default theme. The default themes offer a minimalist design and are suitable for creating basic websites.
But, as soon as you start using it, you will realize that it might not be perfectly suited to your needs. The main reason for this is that the default theme is not that versatile and it does not have all the features and the ability to customize anything and everything to your preference.
So where to go next?
The best place to find the theme is WordPress.org.
With over 4600 WordPress themes available on the market, picking one can be intimidating. After all, you would like to continue with the same theme for a long time if you are serious about blogging, isn't it?
All these themes are 100% free, often updated by developers and tested for minimum performance benchmarks.
Once you find your perfect match, check the overall rating, as people who use it will likely share their experience by posting reviews.
I generally recommend buying a premium theme… (but not necessarily paid ones).
You can actually download the premium theme without paying anything.
I'm not saying this because I'm promoting them to earn commission. But, for as low as $30 on average, you can buy a paid theme from any popular theme store to ensure that your theme is coded by a professional developer and with two good reasons.
Performance
Security
Few premium theme developers like kadencewp and themeisle, they offer lite versions of their premium WordPress themes for free. Of course, you won't get all the features, but at least you can try their products and services.
I recommend the two premium theme stores because they are popular for creating lightweight, fast and 100% free themes. So, when you start a new blog, you can choose any free theme offered by these developers. You don't necessarily need to buy the theme with all the premium features, especially when you're starting something new.
Adjusting WordPress Blog Settings
Whether you download free or premium, each theme includes basic options to customize your WordPress site. Most of them, especially the premium themes, include additional tabs and options for you to take website customization to the next level.
But, when you talk about website customization or adding extra functionality to a website, I bet coding is probably what pops into mind when you hear these terms. Isn't it?
Luckily, WordPress is so versatile and can be quickly adapted to your site's needs, making customization very easy, smooth, and seamless.
Let me give you some examples of what these basic settings are and understand their purpose. For this, you must first be logged in as an administrator on your WordPress blog site.
Member Registration
If you want to create an online blogging community and allow users to add posts, comments or even perform other actions on your website, WordPress offers a membership feature which you can activate with just 1-click.
To activate this feature, go to Settings → General, and check the membership option "Anyone can register" and save changes.
You can also control the permissions of newly registered users by selecting the option from the " New User Default Role " drop-down list available just below the Membership checkbox. The default role is Subscriber, which gives your users the least access to your website. For example, users can log in to the admin area, update their profile, view blog posts, and write comments.
Permalinks
The permalink is basically a part of the URL address that helps you locate the resource on a website. It can be a post, page, image, audio, or even custom content.
WordPress has the ability to allow you to display URLs in different ways. When you first set up your blog, the default URL structure is set to the unique identifier of the post or page on a website, for example http://example.com/?p=1234.
Permalinks help you form the structure of URLs on a website. And, you must choose the right option to set up your blog adhering to SEO optimized URLs.
The thumb rule is that the permalink (also known as slug) remains the same for the lifetime of the post or page after it is published. Therefore, you should keep it simple, easy to read, and include a few keywords in your URLs.
To change the permalinks on your WordPress website, go to Settings → Permalinks, and choose the option that suits you best.
Setup a Homepage for Blog
The homepage is a great way to introduce your visitors to who you are and what you do. In WordPress, you can easily create a new static page for your blog and assign it as your homepage.
There are many reasons why you should have a homepage for a website.
You use the homepage either to promote a specific campaign or display information with brief sentences that sum up who you are.
Typically, for a blogging site, you can have a homepage that tells your story and what inspired you to start the blog.
To create your homepage, start off by adding a new page by going to Pages → Add New.
To create your homepage, start by adding a new page by navigating through Pages → Add New. Add the title 'Home' and save it. Next, you must also add another page and call it 'Blog' or something more relevant to your blog content.
To set your homepage, go to Settings → Reading.
Then, under "Your homepage displays", choose the option "A static page".
Next, click on Homepage dropdown and select the home page you just created above. Likewise, set the blog page by selectin the Posts pages dropdown.
Save your changes. Now, when you browse your website by typing the domain name, it will display the new homepage you created a few minutes ago.
5. Install useful WordPress plugins for your blog
If you are a newbie here, then the question will come in your mind that what is a WordPress plugin?
Let me start with the plain definition.
A WordPress plugin is a small piece of code that allows you to add additional features to your WordPress website.
It plays a vital role in website building and is easy to integrate with the core WordPress software. It's like a plug and play so you don't need to know the code of the plugin.
Each plugin is designed to meet the specific need. So, it is likely that you will need more than one plugin for your WordPress blog to meet all your needs.
If you still have any doubts, let me put it another way,
"It's like a condiment in your food recipe."
By putting the right quantity of spices, you can make your recipe delicious.
However, more or less of it can make it either inedible or tasteless.
The same principle applies when you build a website on the WordPress platform.
You should be careful while adding plugins to your WordPress site. The right amount and combination of WordPress plugins will bring added value to your blog. But if you overload your WordPress blog with too many plugins, your website can have significant impacts like slowing down your site.
Another compelling reason against installing too many plugins on your WordPress website is that it can make your website vulnerable. Try to avoid poorly coded or maintained plugins as they can open loopholes in a website and attackers can exploit these vulnerabilities to gain unauthorized access to your blog.
But that's not all…
What might complicate things for you is that there are currently over 60,000 WordPress plugins available in the plugins' directory on the WordPress.org website. So, choosing the right one is always a difficult choice and requires some research.
Therefore, we decided to help you out by making a list of the top 7 WordPress plugins that we think make a difference!
Must Have Plugins for WordPress Bloggers
Plugins are essential components to building great WordPress websites.
They bring important functions to your blog. Whether you need to optimize for seo, social media share buttons, add contact forms, build online store, speed up your site, or add email opt-ins. Everything you need can be done with a plugin.
Below are 7 must-use plugins for WordPress. And, you must install them right away.
1) Yoast SEO
Yoast SEO is an excellent choice when it comes to optimizing your website for SEO. With this plugin installed on your WordPress blog, you can easily improve your site for important SEO aspects such as optimizing your page for search results appearance, keyword suggestion and optimization, readability analysis, auto generate sitemap, and building internal links.
Add this plugin to your website: to improve your site ranking in search engines.
2) WP Rocket
WP Rocket is a caching plugin for WordPress. It's the best plugin available in the market which helps you to improve your WordPress website for speed and performance – you don't have to be a field expert for this. With just a few clicks, you can turn on some essential settings for your site that will significantly improve your website load times and ultimately help you improve your GTMetrix and PageSpeed ​​scores.
In addition to the normal caching options, the plugin is packed with a number of advanced options to further accelerate your site by enabling lazy loading, HTML/JS minification, CDN integration, font optimization and more.
Add this plugin to your website: to make it load even faster.
3) Social Snap
Social Snap is an easy-to-use, flexible and powerful WordPress plugin that allows you to connect your site to many popular social media platforms. Simply install this plugin to your WordPress blog and you will quickly add social sharing buttons at various places like inline buttons (before or after content), floating sidebars, sticky bars, widgets, shortcuts, etc.
The plugin is very lightweight and provides an intuitive interface to easily customize your settings. Plus, unlike many other social share plugins, you won't need to deal with a confusing UI with bloated settings.
Add this plugin to your website: to drive more traffic from popular social media networks.
4) Redirection
As your blog grows, the number of URLs of pages on your site will definitely increase. At some point, you'll need a tool for handling URL redirects.
Redirection is the most popular URL redirect manager for WordPress. With this plugin installed on your website, you will find how easy it is to track broken links (404 error) and manage HTTP redirects with just a few clicks. And the best part is that you do not need to connect with your hosting account to manage them. Everything can be managed so easily from the admin dashboard interface.
Add this plugin to your website: to easily manage URL redirections and 404 errors.
5) Contact Form 7
If you have a blog, you will definitely want to keep in contact with your visitors. There is no better way to receive messages from visitors than directly from your website.
Contact Form 7 is the most popular contact form plugin for WordPress. It offers your visitors a fast, easy and convenient way to get in touch with you. You can create unlimited contact forms with reCAPTCHA and Akismet spam filtering to protect you well from spammers.
Add this plugin to your website: to let your visitors contact you quickly and easily, directly from your website.
6) Wordfence Security
With WordPress being the most popular platform for building a website quickly and easily, it also brings challenges to you. Often attackers use automated tools to exploit vulnerabilities in popular plugins and gain unauthorized access.
For this reason, we recommend our next plugin Wordfence which is the best security plugin for WordPress that protects your website from many external threats and keeps it safe through regular malware scans. It adds an extra layer of protection by filtering out malicious requests to your site.
Add this plugin to your website: to keep your website safe from malwares and brute force attacks.
7) Broken Link Checker
Broken Link Checker is a very useful plugin for WordPress that helps monitor your website for any broken internal and external links on your blog site.
Too many dead links could be harmful. It could impact on your SEO and user experience.
The plugin automatically finds dead links on your website within minutes. By enabling alerts, you can receive instant notification when one or more broken links are detected. This allows you to take quick action and fix any links that don't work, including images.
Add this plugin to your website: to find and fix all dead internal and external website links.
6. Write a blog post and publish content
From what you've read so far in this article, we've learned everything, step-by-step, it takes to set up a basic framework to get your blog online.
And the fun part is? You could do it all by yourself.
Now that your blog is up and running, you can start blogging straight away!
Since it's your first article, you might be wondering what to write?
And when you sit down to write the first draft, you may find it hard to articulate your thoughts into words or perhaps the writing doesn't appear or flow naturally.
That's most likely because you may lack confidence and can't structure your thoughts; or feel a little less inspired at first.
If you can't decide on the first topic, or have difficulties narrowing it down. Don't worry. It's a very common problem among writers.
Don't get frazzled. Try to keep it simple.
Why not write something about yourself? It's actually a great way to introduce your audience to who you are and what inspired you to start blogging?
Remember that even if it does not really hit the spot with your readers, that's not the point. Essentially, it will help you take the first step in your blogging journey. Plus, when you start posting new content, you may even learn to break free from writer's block. And gradually, you will improvise your own writing so that you can deliver quality content that your readers will love to read.
Who knows that your first piece of content could still be an inspiration for others who aspire to do similar work?
Here are basic steps to create a new blog post in WordPress:
Step 1: Log into your blog admin panel (WordPress Dashboard). From the left-hand panel (menu), click on Posts > Add New.
Step 2: Enter the title of the blog post and write down the content (or body) you want to talk about.
Step 3: Add visual (or featured image) to your post. This is important. This step could help you drive extra traffic if you add a relevant visual related to what you are posting. On the right-hand side of the page, under the Post section, you will see the subsection with the title "Featured Image". Here, click on Set Featured Image and upload it.
Step 4: Select the post category and tags (optional).
Step 5: Publish your new post and share it with your audience. Note, you can also save the post as a draft and come back to it later.
7. Promote and grow your blog
For your new blog to sustain and grow, it needs readers. In order to get more readers, you need to promote your blog (in whatever way possible).
Now you might just be wondering why do I need to promote my blog? Isn't it enough to produce quality content?
Well, it may be true that publishing an awesome piece of writing can add a lot of value to readers. But do you think your blog post will just rank #1 on Google overnight? (Probably not – am I right?)
Often, as a blogger, you don't know which aspect to focus on. This confusion is mainly between writing quality content and promoting a blog. While some people think good content can drive traffic, others work harder to promote it. However, if you ask any successful blogger, the answer will be to focus on both aspects.
Simply put, writing great content isn't always rewarding. You also need to prioritize other important things, such as increasing your blog traffic, so that more and more readers can enjoy your work. And certainly, promoting blog posts in the right way could help you grow.
3 Proven Ways to Promote your Blog
Here are top three strategies that can really help you promote your blog when you need it most.
Link Building
So, what is link building? And why should I pay more attention to it?
Link building, as the name suggests, is the process of acquiring links to your website from other sites on the Internet.
There are two ways of acquiring links (or backlinks):
Link Earning: is considered the most effective way to drive direct traffic to your blog or website. Being effective means – naturally earning links without having to actively promote your blog content. It's also referred to as "passive link building" technique. If you consistently produce unique, high-quality, and engaging content for your blogging niche, you're well on your way to achieving that goal.
Buying Links: consists of acquiring backlinks through paid services or directly paying a webmaster who wants to put a link on his website. At first, this may seem like a simple solution that could quickly generate new backlinks to your website. However, you should choose this option very carefully to avoid being penalized if caught by Google. Buying link is against Google Webmaster guidelines. They specifically emphasize that you should only engage in building natural backlinks.
Why is link building so important?
One of the most common tactics used to rank higher in search results is to build quality backlinks.
They are like votes.
Each new link you acquire on the web is like a vote that helps search engines determine the authority and trustworthiness of your domain.
In a way, it also helps search engines gauge the quality and constancy of a domain.
Here are 4 best strategies to help you acquire new backlinks:
Broken Link Building is the technique of finding "dead links" on other websites in your niche and then contacting the owners of those sites to fix them. Reach out to them by email or through the contact form and ask if they would like to replace broken links with links to your website. If that doesn't sound compelling, let them know how it might affect their website. Though this tactic may seem like child's play but let me tell you, it's not that easy. The real problem lies in finding such links on the web, even if you're aiming at a small audience. If you don't want to get your hands dirty straightaway, try any tool that offers broken link building capability.
Unlinked Mentions remain an important strategy for building more links. When people mention you but don't link to your blog, you're already halfway to earning a new link. Such mentions could be a perfect opportunity for you to generate more backlinks. Perhaps, it's much easier for you to reach and convince people.
Visual (or Image) Link Building is another effective way to bring more traffic to your website by adding visual elements to your content such as images, infographics, charts, or slides. According to surveys posted online, it shows that visual could contribute up to 15% of traffic to the website. It's important that the visual aspects you add to your content are highly relevant. If done right, you could not only gain more backlinks but you could also increase brand awareness.
Competitor Research from a link building perspective involves identifying your top competitors, finding their backlinks by analyzing domain-level traffic, diving into page-level backlinks, reaching out to websites who link to your competitors or to discover similar opportunities.
Guest Blogging
Guest blogging is still one of the most effective marketing strategies for building authority in your niche.
The idea is simple – you write the blog post (like usual as a blogger) and publish it on another website.
Now, this might sound a little weird, but the logic here is to get a quality backlink in exchange for the blog post.
If done right, it could help you get more free backlinks and increase traffic reach.
Through partnership and networking, this approach aims to develop a market relationship in which you interact with different people in a way that is mutually reinforcing and leverage one another.
Content Sharing
Social media is a great platform where you can easily distribute your content.
By sharing relevant content, you can reach more and more people, even outside of your network, engage and eventually turn them into followers.
This approach could help you create brand awareness.
Next, have your social marketing plan ready before you start using each of those platforms to promote your blog.
Overall, using these techniques effectively can reap a huge reward and help you earn from your blog in the long run.
Monitor Hosting Resources
To get your website online, you need a hosting plan. This is the basic necessity to be able to put your blog online.
And you'll probably go for a budget-friendly hosting solution that will at least help you get going with the project. Isn't it?
Every web hosting plan has a number of technical limitations, regardless of the hosting provider you choose. The more economical the scheme, the more restrictions will be imposed.
Below are a few basic types of hosting solutions offered by most web hosts:
Shared (or Web) hosting
Managed WordPress hosting
VPS hosting
Dedicated hosting
Among them, Shared hosting is the most basic and cost-effective web hosting package – ideal choice for small or entry level websites. But there are several limitations worth noting before opting for a starter plan.
Shared hosting, also known as basic web hosting, allows multiple websites to be hosted on the same server. Sites hosted on a shared server use common resources such as disk space, processor, memory, etc. Here the (pre-calculated) cost is split between the website owners as they use the shared resources. It's therefore the most economical solution.
That said, shared resources pose a potential risk to website security and availability.
So, before you ask why do you need to monitor the website hosting resources?
Here are three main things you should keep an eye out for:
1. Bandwidth
To ensure smooth sailing of your website, you must have sufficient bandwidth allocated by the web host. Otherwise, your visitors would have a hard time navigating through site.
What happens once you go over the bandwidth usage limit is that your host may temporarily suspend your website until the limit is reset, which is normally the end of the month. In such a scenario, either your site goes down or you will have to upgrade your plan to get additional bandwidth.
2. CPU
The CPU (or processor) is the most critical part of your hosting server.
Your web host allocates you a small part of the CPU (usage time or limit) that your website could use for computations. So, every time a user requests a URL on your website, your server utilizes available CPU resources to process the request and prepare the response.
In the end, it all depends on the power of the server your website is hosted on.
As I wrote before, in shared hosting, you actually share the server resources between the other websites. Which means you only get a small portion of server CPU and RAM that your website could actually use.
Under normal circumstances, higher CPU loads mean more traffic. And that should be your ultimate goal. Isn't it?
However, in other cases, high CPU usage may be due to other factors.
These other possible reasons for higher CPU usage are:
The Cron jobs are resource intensive. If you have too many plugins installed, get rid of the ones you want. When your website processes too many requests, either for a request coming from the user or some scheduled tasks, it can lead to high CPU loads.
Your website is excessively crawled by search engines and other bots.
Analyze the traffic report. See the pattern, where the traffic is coming from, and which page receives the most traffic. By understanding this pattern, you would even be able to see if your website is falling victim to bot traffic.
3. Memory
While the CPU plays a major role in processing the information, RAM usage is the key to the performance of the web server. In order to be able to process information, it first needs to be stored in memory.
Each process requires a memory, and server performance will decrease if processes need to wait for already running processes to end and release memory.
Either way, when one hits its maximum limit, it could ultimately affect your website.
What matters is that as your blog grows and hence traffic to your website, you should consider upgrading the hosting package to have additional resources to handle the increased volume.
Normally, your host should alert you when you are nearing the capacity of hosting resource limits.
The most common way to view resource usage information for your hosting account is through cPanel. To quickly view the statistics of your account, log into cPanel and look for the section "general information".
Starting a Blog: Important Pages for a Website
While it is true that your blog is already up and running after following the steps above and later, you might have added a few new blog posts as well, but we're not done yet. Note that some other remaining elements must also be added, otherwise your website will not be complete.
Just like a birthday party is incomplete without party poppers, a blog would look incomplete without essential web pages. ????
What pages should you add to a website?
There are a few important pages you need to create for your blog site. They are usually static pages that share valuable information about you with your readers. Like who you are, where you're from, what your blog is about, how to contact you.
These pages include website home page, contact form, about page, sitemap, terms and conditions, privacy policy page, search page and a few others, as described below.
Essential Pages Every Website Needs
Here's a list of essential pages you should add to your blog:
1. Home Page
Everything begins from the home page. It's the starting point of a website.
Normally, visitors browse the homepage by typing the URL of your website's domain name in the browser.
It can give visitors a sufficient idea of ​​what the website is about.
Your content on the home page should be accurate, informative and engaging to readers. This is because for the visitors, it is only a matter of a few seconds to decide whether the website is worth their time. Therefore, it's very important to know what exactly you are putting there and, in particular, the visible area of ​​a homepage that is displayed to the visitors before they start scrolling down the page.
2. Contact Page
When creating a website, you must also add a contact form.
Not because it's just nice to have it, but it helps you listen to the voice of your visitors.
Typically, a contact page will have an input form where the user can communicate with the website owner by filling in a few form fields. These forms normally contain fields for name, email and comment box to collect questions or comments from users.
By adding a simple contact form, you can easily collect information from your website visitors, helping you communicate with them quickly and effortlessly.
3. About Page
Create a simple profile page that can easily tell the world what you are and what you do.
This simple page on your blog allows users to learn more about you. In fact, it's an important marketing tool that should be designed in such a way that it easily convinces people.
But the about page doesn't have to be just about you. Just imagine that you're just like any other visitor on your website. Now, ask this question to yourself. What made you come to visit the about page and how could you benefit from it?
In fact, this is your opportunity to write your script, so embrace your vision to help you find the most compelling way to tell your story. One very important note is that you should add a link to your contact page or to your social networks so that your visitors can contact you.
4. 404 error Page
If you receive a 404 error that indicates that the remote web server could not find the specific resource (web page or URL) for the request you made from the browser. In such case, WordPress redirects the visitor to the special page with the title "page not found".
The default layout for '404 page' is very basic and at times you may find that you need to improve upon it.
5. Search Page
The search page is a valuable tool for a website. It helps users find specific information.
By adding a quick search bar to the website, you can encourage readers to make the best use of the site.
6. Terms & Conditions Page
Unlike the Privacy Policy, which you must add to a website when collecting personal information from users, it's not mandatory to have a Terms and Conditions page.
The main purpose of the Terms and Conditions page is to set out in a detailed and agreeable manner the agreement between Users and the Website for the use of the content.
There are some good reasons why you should have this page on your website.
Protect your digital assets
Prevent abuses
Reduce liability
If you think it's important, add them to your site.
7. Privacy & Policy Page
If you're collecting information from visitors through a contact form or another way on your website, then it's necessary to add privacy policy page.
The protection of personal data and privacy is a common concern of users.
Therefore, you must not disclose the data to any third party, however, if you do, please ensure that users know how you will use it and what measures are taken to protect it.
Create a free custom policy for your website using an online privacy policy generator tool.
8. Sitemap Page
Creating a blog may not sound as difficult as you might have thought at first, but making content discoverable by users can be a bit challenging.
Here, sitemap plays an important role.
A sitemap provides a quick overview of the structure of a website. It consists of one or more files, each containing a list of URLs for your internal pages, which web crawlers use to navigate through the website.
It allows search engines like Google, Bing, Yandex to find your website and helps them to understand how the pages of the website are structured.
There are many plugins available in the market that help you generate the sitemap even without writing a single line of code. And, if you have already installed the Yoast SEO, you can activate this feature in just a few clicks.
You can view or download the sitemap simply by visiting the url below,
"yourdomain.com/sitemap_index.xml"
Read this article to add sitemap using yoast seo.
Frequently Asked Questions (From Beginners)
1. What is a blog?
As most of you reading this article on how to start a blog must already be familiar with the term blog. However, for those who cannot fully differentiate between website and blog, this section of the article will help them to understand it.
Actually, a blog is a type of website. The real (and only) difference between a blog and any other type of websites is that blogs are updated regularly whereas a website is usually made up of several static pages.
A blog is any website that regularly publishes new content plus the information on website is displayed in reverse chronological order, meaning that the most recent content (blog posts) is listed first in order.
2. Why is WordPress an ideal blogging platform?
WordPress remains the top choice for blogging even today. Thanks to its easy-of-use, automatic update and wide-open community support that makes it #1 choice for many bloggers. It gives you the option to self-host your blog so that you can easily manage your blog from anywhere. Plus, you get full control of your website and can customize it any way from top to bottom.
But when you search for the phrase 'WordPress' in a Google search, you may see two different sources: WordPress.com and WordPress.org.
Often, beginners get confused between the two but there are clear differences.
WordPress.com is a managed hosting service provider that uses WordPress software as the core for all the websites that are created and managed by them. On the other hand, WordPress.org is a freeware software that you can use to build and host your website on your own.
Here we provide you with the top 7 differences between WordPress.com and WordPress.org.
WordPress.com vs WordPress.org Infographics
A few other limitations with WordPress.com that you must know,
FTP access is not allowed.
No direct access to database.
Restrictions on size of image upload.
Limited plugins available (varies by plan though).
Storage limits.

Free Plan – 3GB
Personal Plan – 6GB
Premium Plan – 13GB
Business Plan – 200GB
eCommerce Plan – Unlimited

No customization.
For more details about plans and pricing from WordPress.com, click here.
3. How to stay motivated as a newbie blogger?
When you start writing a blog post, you can often get to the point where you feel like you're running out of ideas or lack of motivation to finish the writing (or even start one). And if this happens to you, do not worry because you will be able to overcome this difficulty. To combat this, you need an arsenal of tools and techniques that you can use to help you overcome motivational issues.
Here are a few writing techniques and blogging tools that I've used to overcome my blogging issues from time to time and stay really motivated to write.
1. Structure your article first
After choosing the blog post topic, the next thing to do is research the topic and finalize the basic blog post structure.
One of the biggest mistakes I see with (newbie) bloggers is that they keep posting new blog posts but get no adequate results to stay motivated.
Don't worry because when I started blogging, it happened to me many times. Often you would find it heartbreaking and demotivating but believe me that it won't last very long, at least for self-determined people.
There are mainly 3 basic elements for every blog and they are,
The title: is a first thing your readers would often see and sometimes even before they land on the page. The blog post (or page) title is the first part of your article and is also responsible for getting readers to click through and read the rest.
The body: is mainly responsible for holding the reader's attention. Writing catchy headlines for your article alone won't help and you won't hold your reader's attention for long if the body of the article is lackluster.
The body is where you present your main idea, issue or research depending on the type of blog post. Therefore, formulating the main content for your blog post depends on the nature of the article and your knowledge on the subject. Sometimes, you might not know much about the topic and then need to start researching it.
Below are a few tips for effective blog post writing,
Make an outline for your article
Research your topic
Use keywords
Break content into sub-headings
The image (featured): is another essential element of the blog post. It is mainly used to indicate to readers through visuals the content of which it is a part. It could help you generate more clicks through popular social networks and even search engines like Google and Bing.
2. Make a habit of writing frequently
To be a successful blogger, you need to practice writing often. If you can't write 1000 words every day, at least 300 words or one page a day would be the way to go.
In other words, you need to set a measurable goal.
For example, you set the goal of producing 300 words content every day or 1500 words every week.
It's up to you based on your profession and blogging obsession – how much time you can devote to it.
3. Take a few short breaks
This is entirely person-to-person, but often taking short breaks during work hours can help boost your productivity. But if you often feel stuck, feel free to put your article aside for a while. But don't stay away for too long, or you risk losing the momentum for blogging altogether.
Taking breaks refreshes the mind and alleviates stress resulting from prolonged work. Additionally, changing the environment and timing might also help increase your motivation.
4. How do I start a recipe blog?
Starting a new blog involves research, planning, investment (time and money) and of course passion. Any topic you choose should be well-researched and popular to drive traffic.
Blogging about food is one of the best blog niches to get into. And as you know, one of the most basic human needs is food, which stands first among all others.
Here are the basic steps needed to start a food blog:
The first step is to find the best food blogging niche. There are so many different topics you could write about – from quick recipes and healthy food to authentic and traditional dishes.
Register a new domain for your food blog. Just to put some food blog ideas like tweet recipes, authentic food or vegan bar.
Choose your food WordPress theme that matches your personality and taste.
Choose the right theme (clean design and easy navigation) for your food blog. The visual appearance of food is important for the consumer especially when they can't taste it. As the success of a dish depends on its decoration, you must pick a theme that presents your dish in the most exciting way. In simpler terms, the visual tasting appearance comes down to good or bad food presentation.
Set up your web hosting.
Prepare the materials for recipes and publish original content.
Share cooking tips and roundups like 5 minutes breakfast ideas.
Make your editorial calendar for the long term.
Disclaimer: This post may include affiliate links. If you click one of them, we may receive a small commission at no extra cost to you. Thank you for your support.