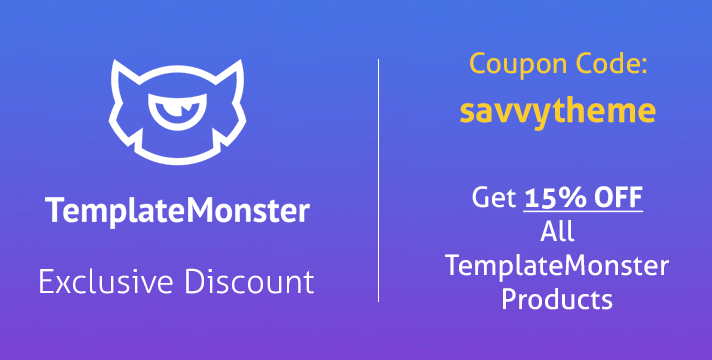 Template Monster is a leading provider of website templates and themes for popular content management systems such as WordPress, Joomla Templates, PrestaShop, Magento, and Moto CMS. Founded in 2002 by David Braun who is an IT entrepreneur, has successfully run the business for the last 16 years as CEO of the Template Monster and took it to new heights. As a result, it has over 26,640 premium templates and the best-selling digital products listed on its website that not only make them the biggest market for selling professional web templates, but also offer services such as graphics and logo design, website optimization, and partner hosting.
Save an extra
$50 off
when you sign up for the MonsterONE lifetime plan and use this exclusive template monster coupon
LT50
on checkout.
Sign up for the ONE Membership and get unlimited access to all digital products at TemplateMonster.com for as low as
$14/mo
. Plus, you get extra
5% off
when you use our special template monster coupon
savvytheme
on checkout. Get the top-notch themes, templates and over 16000 other digital assets. Discover unique features that you get when sign up for the
ONE membership
.
How to Use Template Monster Coupon Code?
SavvyTheme's exclusive Template Monster coupon can help you save 05% on all templates and themes for a multitude of websites and content management systems. To redeem the code, follow the instructions correctly so that you can claim a discount on your favorite template monster product.
First, visit the Template Monster website. Browse through the products, choose one you feel perfect for your blog or business site, and then click on the 'View Details' button. You should also check the popular and trending items under sale so that you can save up to 50% on selected templates and themes.
After clicking on the 'View' Details button, you will be redirected to the product page. On the product page, scroll down and click on 'Get It Now' button to add the product to the cart.
On the cart page, click on the link 'Add it here' and enter the promo code 'savvytheme15'.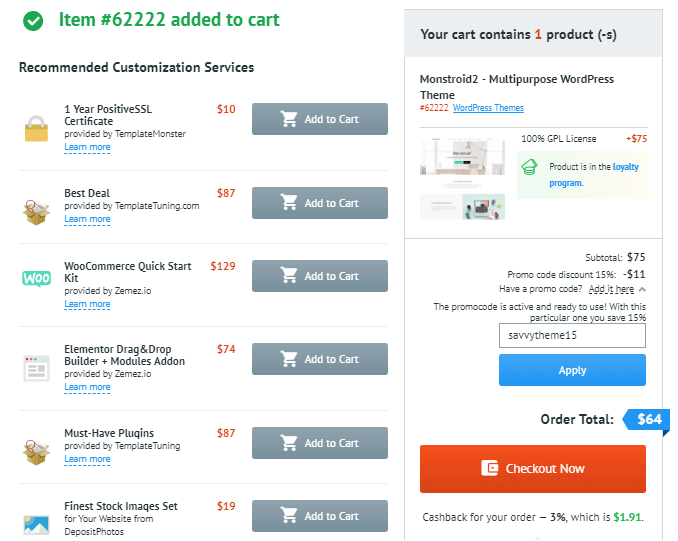 Click on the 'Apply' button to reduce the price of one or more Template Monster items in your cart. You can now click on Checkout Now button.
Fill up the details on the checkout page in 3 easy steps.
Step 1: Enter your valid email address.
Step 2: Enter your billing information.
Step 3: Pay via one of your preferred payment method.
Once the payment is made, you would get instant access to your purchased item.
We hope you found our Template Monster coupon code useful.
Also, check out this best deal on semrush to improve your SEO and content marketing strategies.
Disclaimer: This post may include affiliate links. If you click one of them, we may receive a small commission at no extra cost to you. Thank you for your support.