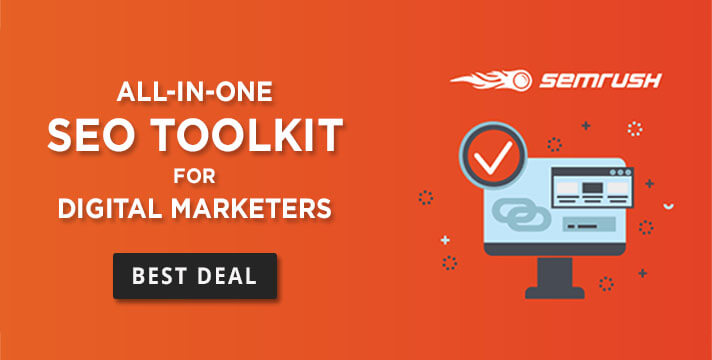 SEMrush is an all-in-one software suite for SEO professionals and content marketers. It includes over 40+ different tools that help you perform SEO, keyword research, PCC, backlink monitoring, and more. Uncovering your competitor's strategies is the key to your success. SEMrush unlocks the possibility of seeing the top keywords that your competitors are ranking for and the pages that bring them the most organic traffic. To help you get a quick taste of the SEMrush Toolkit and make maximum use of the trial, we have teamed up with SEMrush to offer you an extended free trial period using our exclusive SEMrush coupon code.
SEMrush Coupons for December 2022
About SEMrush Subscription Plans
Currently, you have four different pricing plans to choose from, starting at $99 per month (Pro Plan) to $399 (Business Plan), excluding an enterprise plan that is basically customizable and mainly suitable for enterprise needs.
How to Redeem SEMrush Coupon Code?
We have teamed up with SEMrush so that you can get a 15-day SEMrush full trial that will buy you some extra time to evaluate all 40+ advanced tools and features to boost your marketing. To redeem the SEMrush coupon code, please follow the instructions carefully.
Step 1: First, you need to use our promo link to visit the SEMrush website.
Once you're there, click on the 'Get a free 15-day trial' button.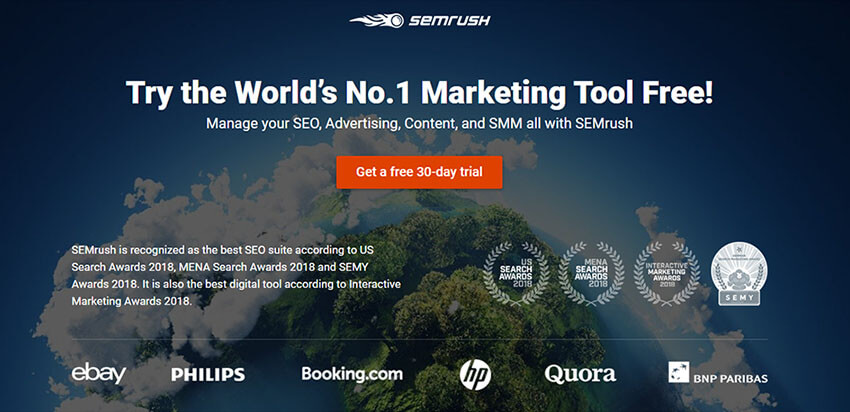 After redirecting to the signup page, you will see that the purchase summary panel is displayed on the right side of the page.
Here, you will see that the SEMrush free trial period is prolonged to 15 days. But if it does not show up, it could be the case with your browser's cookies. We recommend clearing your cache and clicking on our promo link again.
You should also verify that the correct SEMrush coupon code is applied. Just beneath the "VAT", you will see the actual code applied.
Note, our exclusive SEMrush coupon code matches our domain name 'savvytheme'.
Step 2: Enter the required billing information. Don't worry, your credit card will not be charged immediately and you will have 15 days to decide if SEMrush meets your needs.
Scroll down a bit, and you'll have another section where you'll need to enter your billing address.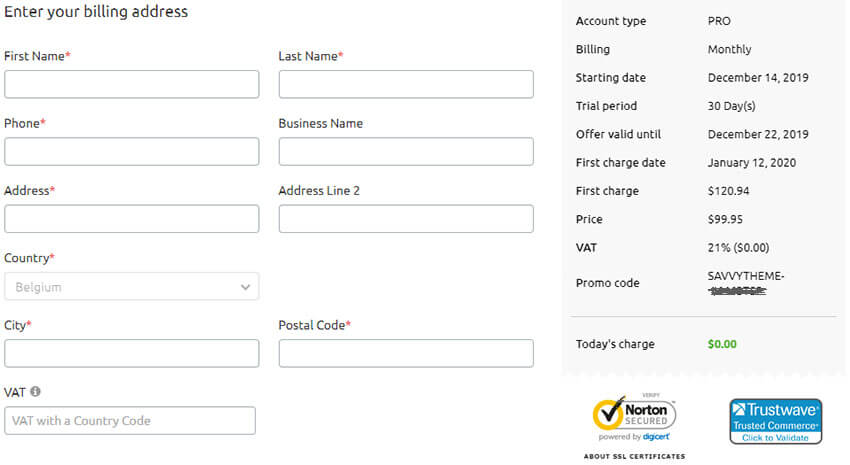 Please cross-check the billing and address information.
Step 3: After filling all the required information correctly, you can proceed with setting up your SEMrush account starting with 15 days trial, just press the 'Place Order' button.
Frequently Asked Questions (FAQ)
Q1. How does SEMrush Collect Data and How Accurate Is It?
Ans. SEMrush uses smart technologies and machine learning algorithms to analyze and process data from reliable sources such as Google, Bing, and other popular search engines. SEMrush database includes over 10.5 billion keywords and 490+ million domains. It gives you a wealth of information to research and understands what works best and what does not for your niche.
Q2. Does SEMrush have a FREE Plan?
Ans. YES. Even though SEMrush does not include a free plan on its website pricing page, you can still use their services free but with very limited access to resources and tools.
Visit the SEMrush website, look for the 'Sign up' button in the header navigation on the top right. Don't forget to tick 'Send me SEMrush news, events, and exclusive offers' option when you create your SEMrush account.
Q3. How can I be notified about the Latest SEMrush Deals and Promo Codes?
Ans. While it's rare to see SEMrush running a one-time discount or seasonal special, there are special occasions where they can offer great discounts and you definitely do not want to miss them.
You can subscribe to SEMrush's email list or follow it on social media. In this way you will get all the information from SEMrush; news, events, and exclusive promos; right in your inbox or news feed.
Disclaimer: This post may include affiliate links. If you click one of them, we may receive a small commission at no extra cost to you. Thank you for your support.