Best Live Chat Software for 2022 (AI Powered)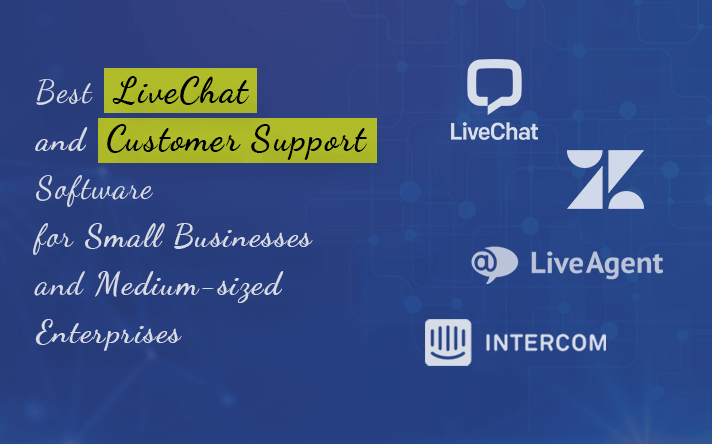 Keeping customers happy is the ultimate goal of your business. Live chat can help you build a better relationship with your customers.
As technology has changed drastically in the last 2 decades, it has changed the attitude of people in which they used to communicate in their daily life. But this advancement of technology has also brought additional burden on businesses due to rising customer expectations.
Today, majority of the customers will try to find answers of their problems online and preferably through your business website, which is probably an ideal approach. But as they start spending more time browsing through the website, you're really testing their patience which may not be a good strategy for your business. Customers need instant and precise solutions to their problems.
Adding live chat software to your website is the most effective and probably the fastest way to help your users get what they need. In this quick roundup, we have listed the 4 best live chat software that is ideal for any small to medium-sized company.
What is Best Live Chat Software in 2022?
Best Live Chat Software for Small and Medium Business (Starting $16/month)
LiveChat is a cloud-based customer service platform that offers live chat and help desk ticket solution on a subscription basis. It provides a superior customer experience and includes capabilities that help you acquire more leads and convert them into paying customers.
It's one of the few customer service platforms that gives support agents the ability to transfer chats to each other or group. This means you can answer a customer's question with a fast and accurate answer – especially useful when an online agent doesn't have the right knowledge to answer the question so that he or she can transfer the chat to another online agent or team to respond.
On top of that, the company offers live chat integration with popular third-party apps and services that you use on a daily basis. For instance, you can handle your WhatsApp chats directly in LiveChat or go a step further by enabling Snapchat integration to allow unlimited voice and video calls within that chat window.
With the new and clean design of their Agent app, support operators can now easily navigate through chats section, helping them stay on top of potential leads and promptly respond to customers with ease.
In addition, LiveChat has made it easy for you to respond to your potential customer. Wherever you go, you won't need to pack your desktop. With the native mobile apps for Android and iPhone, you can chat from anywhere: while you travel, shop or eating.
Other Key Features:
Ticketing system lets you manage all customer support interactions from different platforms from one place.
Quick and easy setup on live website.
Maintain an archive of chat transcripts between customer and agents.
Over 200+ integrations with third-party apps, from CRMs to e-commerce platforms.
Enforce secure connection between visitor's browser and chat server.
Automated greetings and proactive chats.
Sales tracking for ecommerce shops.
Pricing Plans:
LiveChat provides four pricing options.
Starter ($16 per month) – Max 60-day chat history, basic chat widget customization, ticketing system, data security, no reporting, chat transfer, traffic monitoring limited to 100 visitors at any given time.
Team ($33 per month) – All starter plan features, unlimited chat history, full chat widget customization, basic reporting, agent groups, traffic monitoring limited to 400 visitors at any given time.
Business ($50 per month) – All team plan features, advanced reporting, staffing prediction, work scheduler, traffic monitoring limited to 1000 visitors at any given time.
Enterprise (Quote based) – All business plan features, dedicated account manager, product training, security assistance, HIPAA compliance, SSO, traffic monitoring limited to 1000 visitors at any given time.
Note, the price listed above is per agent and is billed annually.
Try LiveChat risk free for 60 days.
Visit livechat.com | View Pro Features
Premium Live Chat Tool for Large Enterprises (Free 30-day Trial)
Zendesk is another popular cloud-based customer service software suite, with live chat and email marketing capabilities, and a ticketing system to manage service and support cases.
With a customer engagement platform, you can help a business manage complex customer relationships. By offering real-time communication with customers, it not only improves your product or service quality but it also helps you increase customer satisfaction rating and sales.
Trusted by over 200,000 customers, it's an industry leading software that helps companies manage their everyday needs such as offering a ticketing system to track, prioritize and resolve customer support requests.
Zendesk enables you to set up and run a dedicated online service portal for customers. This makes it easy for your customers to submit requests and track, access to services and information, helps improve collaboration between customers, and more.
Apart from its wide range of features, Zendesk includes over 1000 integrations like Salesforce, Slack, Discord, Outlook and many more. On another note, the tool has support for more than 40 languages. Most likely, Zendesk has covered your region/locale.
Other Key Features:
A ticketing system to manage your service and support cases with ease.
An ability to setup a dedicated hub for customers.
Pre-made dashboards to analyze your performance, schedule and automate reports delivery by email.
Setup pre-defined responses for agents to save time on common questions.
Define SLA for your customer support team and monitor the performance.
Routing tickets to the right agent with the skills for quick resolution.
Pricing Plans:
Zendesk has categorized its pricing into two parts; plans for everyone that are more suitable for small businesses whereas enterprise plans for larger companies.
Plans for everyone
Suite Team ($49 per month) – Instant answering using AI powered automated tool (max limit upto 50 AI bots), attachment size – max 50MB, widget customization, limitation of 2 departments, file sharing with visitors, no multilingual support, basic theme customization, customer portal.
Suite Growth ($79 per month) – All suite team features, upto 100 AI bots, multilingual support, more options for theme customization, customer satisfaction ratings and follow up surveys.
Suite Professional ($99 per month) – All suite growth plan features, upto 500 AI bots, unlimited departments, triggers and routing, conference calling, call routing and blocking, priority numbers and call back options.
Plans for enterprises
Suite Enterprise ($150 per month) – All suite professional plan features, advanced theme customization, help center for upto 300 brands, upto 500 AI bots, 200MB data storage per agent, file storage upto 10GB per agent.
Suite Enterprise Plus ($215 per month) – Customized solution based on your needs, includes everything offered under suite enterprise plan.
Note, the price listed above includes both Zendesk's solutions, customer service and sales. If you're looking for an individual plan like zendesk customer service or zendesk sales, pricing starts from only $19 per month for team and $99 per month for enterprise.
It's a pricier tool, but the best enterprise customer service tool out there.
Visit zendesk.com | View Pro Features
Best Help Desk Solution for Businesses (Start with Free, upgrade from $15 per month)
Every customer support team wants to have a unified dashboard that brings in data from all the possible channels they have access to. And LiveAgent knows this very well. In fact, LiveAgent was the first solution to offer live chat and help desk capabilities. It includes all the key features of live chat such as real-time chat, monitoring and tracking website visitors, proactive chat, chat history, and many more.
You can leverage its powerful and intuitive UI dashboard to access all incoming messages coming from various sources such as email, phone calls, social media messages, and tickets. It offers the best-in-class ticketing system that you can leverage to answer more tickets in less time. Plus, its help desk tool has over 130 features and over 200 integrations so you can connect with your customers through your favorite tools.
LiveAgent also helps you manage inbound and outbound calling. Thanks to its Virtual Call Center equipped with latest technology and which helps you in providing better customer service and remain responsive to customer queries. In fact, it's much more than just a tool to take calls and provide answers on time. The call center software can help reduce call abandonment rates, improve agent efficiency, provide a better customer experience, and increase sales. And the best part is that it only takes a few minutes to setup and you enjoy hardware-free call center at your fingertips.
With its mobile optimized web interface and native support for Android and iOS, agents can go mobile and respond to tickets and chats promptly.
To help you respond to notifications posted to your social media handlers, LiveAgent turns them into tickets so you don't miss anything and are more likely to engage with your customers.
Other Key Features:
Track visitor's activity in real time and their geo-location.
Ability to allow customers to request callback from support team.
Manage high call volume through inbound call center for your support team.
Setup chat routing to deliver fast and accurate answers.
Native iOS and Android apps for agents to go mobile.
Canned messages and predefined answers to increase the response time.
Pricing Plans:
Currently, there are four pricing plans for LiveAgent.
Free – 7 days ticket history, 1 chat and phone number, 1 email address, basic reporting, customer portal and forum.
Ticket ($15 per month) – Everything in Free plan, unlimited tickets, ticket history, advanced reporting, custom actions and time triggered rules for task automation and more.
Ticket + Chat ($29 per month) – Everything in Ticket plan, live chat, survey and feedback management, visitor monitoring, proactive chat, social networks, auditing and more.
All-inclusive ($39 per month) – Everything in Ticket + Chat plan, virtual call center, video calling, IVR, call routing and transfers, hardware IP phone, unlimited call recording, and more.
Note, the free plan is always a way to go and has some limitations. You can upgrade to paid as you grow.
Try LiveAgent forever free help-desk software.
Visit liveagent.com | View Pro Features
Best 3-in-1 solution for marketing, support, and sales.
InterCom is a conversational relationship platform founded by four Irish designers and engineers with the aim of creating a better messenger for businesses that want to communicate with their customers more quickly and efficiently. It includes tools for customer support, marketing and sales teams.
It offers the best-in-class business messenger integrates easily with any website or app. Also, you can style the chat messenger interface so that it integrates perfectly with the design of your product.
There is also a feature that can help increase the efficiency of your support team and speed up solution times for your customers – through a fully automated self-service mode. Thanks to its AI-powered resolution bot that can instantly answer common questions your customers ask. What's more, it can even detect what a customer is typing in the chat window, and before a customer can press the Enter key – the bot will have an answer ready.
It also helps you optimize your messaging experience for better customer engagement and conversions. The combination of user segmentation, auto messaging and A/B testing feature of Intercom makes this task very easy and you can send well customized targeted message to your website visitor to drive desired user action.
Other Key Features:
Integrates with most channels in one place, making it a more efficient and engaging tool for support, marketing and sales teams.
Easily response to visitors via email, social channels and agent mobile app.
Advanced reporting to monitor conversions and team's performance.
Offers the best intuitive interface for live chat messenger.
Outbound email marketing.
Pricing Plans:
Intercom has four packages that you can choose from depending on the size of your business. The basic plan starts from $79 per month and is ideal for startups and small businesses. It includes the customer support tool with live chat, basic help desk, and automated messaging.
Starter – $79
Grow – $119
Accelerate – $499
Scale – $999
Get Started with InterCom.
Visit intercom.com | View Pro Features
What is Live Chat?
Live chat software helps establish a real-time communication channel between customers and business support agents to enable fast-paced, instant messaging.
The messaging platforms we discussed above let you send messages from their website, mobile apps, and social networks – making it easy to manage all your conversations in one place.
Unlike any traditional communication channel such as email support, where response times range from a few hours to a day or two, live chat can benefit your business by enabling faster and easier communication with your customers.
What Features Should You Look for in Live Chat Software?
Modern live chat softwares are equipped with the necessary tools that can enhance customer success efforts. Most of them offer an integrated ticketing system and seamless automation, so you can streamline customer service and make the best of it.
Some options offer tons of features that you may not even need. However, there are some basic requirements that you need to pay attention to.
Below are some of the key features that you must look for in a live chat software:
Customization Ability – You should be able to customize the look of the chat widget to match your brand and website style.
Ticketing Feature – It's an essential feature that helps to improve your workflow. Whether you're dealing with customer seeking technical support or an employee needs advice from another agent for the faster resolution of the customer's request, a ticketing system will help your business stay on top of support and problem management.
Shared Inbox – A shared inbox for your agents to respond to customers faster and manage all their interactions from different platforms including phone, live chat, social network, email.
Apps and Integrations – Ability to connect with your favorite tools like Whatsapp Business, Facebook messenger, Salesforce, and more.
Real-Time Analytics – It should give you access to key customer service metrics with your team in real-time. You should be able to check the number of visits and chats on your website within a specific time period, new opened vs closed tickets, leads and conversion tracking, survey and customer satisfaction rating. In short, it's crucial to have reports that helps you evaluate your agent performance, manage shifts, monitor chat quality and gauge customer satisfaction.
Social Media Integration – Easily connect with your customers on social media networks; answer questions from within the live chat tool.
Flexibility and Mobility – You should allow the support agent to communicate with clients anytime, anywhere.
How Do You Use Live Chat on Your Website?
Using live chat software to your website is more or less the same process, regardless of the different software vendors. Here, I am using LiveChat to demonstrate how to integrate and use chat software in your website or app.
LiveChat may enable real-time chatting through your website or app.
Here is a brief step-by-step guide that can help you add a live chat to a website with LiveChat.
Step #1: First, go to the LiveChat home page and click on the "Signup Free" option.
After you click on the 'Sign up free' button, you will have to create your free account. After filling all the details, click on the 'Create account' button. Alternatively, you can also register using google, Microsoft or apple account.
On the following screen, you will need to add a little code to successfully integrate live chat on your website.
Step #2: Click on the 'Install LiveChat yourself' option.
Next, copy the code and paste the embed code into your site template file just before the closing </body> tag.
Step #3: In this step (optional), you can connect to your Facebook page and manage all messages from within the LiveChat app.
Step #4: In this final step, you can onboard your team members to the livechat platform.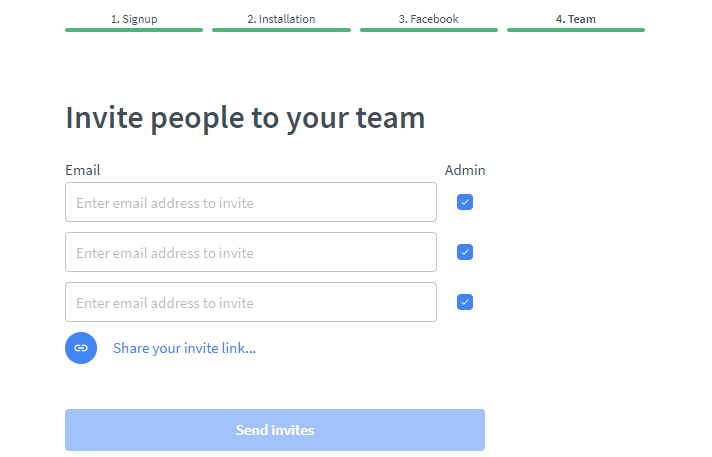 Once your account is setup, you will log into the LiveChat dashboard.
Finally, it's time to start a conversation with your customers.
Dashboard:
Here, you can manage your team and monitor all the conversations.
But you can make the most out of LiveChat if you connect with all your channels. As already explained above, LiveChat offers several ways to connect with customers through different channels. For example, you can forward your support email to LiveChat or even connect to your Apple Business Chat to reply your customers queries from within the LiveChat app.
There are some additional settings you should go through as well.
Customize Chat Widget Appearance:
To make your customers feel like they are interacting with your brand, you can customize the chat widget to match the look and feel of your website.
Setup Goals and Monitor Sales:
The feature was designed to help businesses setup and use Goals to track livechat's performance, as well as monitor sales through a real-time sales tracker tool.
Targeted Messages:
Welcoming visitors is a great way to improve the user experience. Use a combination of greetings and announcements to start a conversation and engage with them.
Wrapping Up
That's all about the 4 best live chat software. All these software options serve the same purpose of live chat in real-time.
For example, LiveAgent is an excellent choice if you want to set up a customer-centric virtual call center for your business.
Zendesk comes with powerful tools for analytics and reporting.
On the other hand, LiveChat is a great solution for startups and small businesses that need to live chat efficiently in a small budget.
Lastly, before choosing any of these solutions, review your requirements carefully.
And, do let me know which live chat software are you planning to use? Which option would work best for you, and why? Please share in comments below!
Disclaimer: This post may include affiliate links. If you click one of them, we may receive a small commission at no extra cost to you. Thank you for your support.