Website maintenance plays a crucial role in protecting your website from a variety of potential problems. However, a majority of WordPress website owners don't consider website maintenance as a necessity, instead, it is considered as a task which never gets done.
But they often forget that an unmaintained website is usually vulnerable to many security threats such as hacking, spamming, increased speed load and reduced SERP.
What exactly is WordPress Maintenance?
Being a WordPress developer, you probably be aware of the fact that a WordPress website should be kept up-to-date. An outdated website gives an open invitation to spammers and hackers to break into a site's security to hack it. Once hacked all the hard work and efforts you put into your site go down the drain. WordPress maintenance is a service in which a service provider offers help to a webmaster to look after the site's basic updates and other security issues such as regular backups, processing comments and more.
For non-technical webmasters, WordPress maintenance can become a business-stopping nightmare since they often overlook the importance of maintaining a site and keep it up-to-date with the latest updates.
Main Maintenance Areas to Keep Into Account
Well, a WordPress website maintenance consists of many areas to consider. A proper maintenance routine should take care of the following areas:
Backing up your WordPress website
It is important to backup your website every now and then. Regular backups ensure that you have your site and efforts that you may have put into it saved somewhere else. So in case something goes wrong, you can get your site back in minutes without facing any downtime.WordPress offers many plugins to schedule automatic backups of your WordPress website such as VaultPress, BackupBuddy, and BackUpWordPress.
Optimizing your database
If your website receives a lot of traffic on a regular basis, you'd be doing a favor to your site by optimizing its database. You will be eventually cleaning out your site's mess while enhancing its speed and minimizing the frequent database errors.Again, there are plugins to keep your database clean. Some of the most popular plugins are WP-Optimize, WP DBManager, WP Sweep, and WP Clean Up.
Setting up security
Security is an essential part of any website regardless of the type of website you are running. After all, you would not want your efforts and hard work to be wasted in case your website is hacked. Maintaining security of your site prevents any unsolicited attack on your site.Plugins to use: iThemes Security, Sucuri, and WordFence
Installing updates
As we discussed earlier, an outdated website is extremely vulnerable to security threats and hacks. Therefore, it is essential to keep WordPress version, theme, plugins and widgets up-to-date to protect your site from security attacks.
Processing Comments
Monitoring comments is yet another important part of maintaining WordPress website. Nearly every website is prone to spam comments which usually contain links to inappropriate websites. These spam comments can affect search engine rankings of a website significantly and degrades its value. Therefore, these spam comments need to be monitored and removed from the site on regular basis.Best plugin to combat spam comments – Akismet.
Monitoring website health
A website's health means to keep hackers away from your site while improving its performance level. There are various tools to monitor your website such as Google Analytics and Google webmaster tool.
Below are top 10 best WordPress maintenance service providers:
Wordsuccor Ltd.

Wordsuccor is one of the fastest growing WordPress maintenance service providers. It has been in business for past 5 years and has managed to gain trust and faith from WordPress users around the world. From WordPress theme integration to WordPress maintenance service, Wordsuccor has a team of dedicated WordPress developers to help you stay ahead in the race. The company offers different packages for its clients ranging from basic to advanced where basic plan includes backups, updates and security and advanced plans include updates of themes, and plugins, core updates and email support along with live chat. They also offer custom plans to serve to specific needs and requirements of their clients.
Read More…
Stellen Infotech

Stellen Infotech is the leading WordPress maintenance service provider on the web, with more than 1000 clients. They provide a variety of different plans starting at $99 per month which consists of WordPress theme updates, off site backups, plugin updates, WP core updates and unlimited maintenance jobs for one site.
Read More…
WP Curve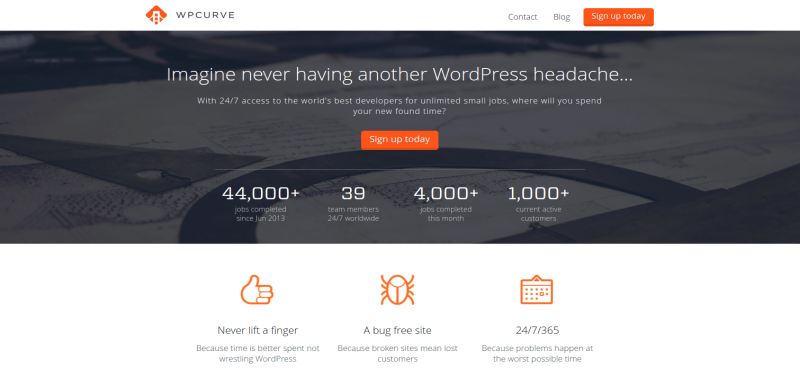 WP Curve is one of the well-recognized and respected WordPress companies which serve more than 800 clients on a monthly basis and generate up to $60k revenue. When it comes to WordPress maintenance services, WP Curve offers two different packages to choose from starting at $99 per month which includes off site backups, theme updates, plugin updates, WP core updates, email support and around-the-clock live chat.
Read More…
WP Radius

WP Radius is yet another company to consider when looking for best WordPress maintenance services. WP Radius offers various plans starting at $67/month for unlimited site task, or $99/month for unlimited tasks along with e-commerce support, security monitoring, theme and core plugin updates. Their advanced plan for enterprise clients costs $297 which includes additional services such as a dedicated account manager and phone support.
Read More…
WP Maintainer

WP Maintainer provides one $99 per month plan which includes Sucuri security monitoring, website backups, core plugins and theme updates. In addition, on registration, the website lets you migrate your WordPress website to a new host. WP Maintainer also provides developer support for website modifications, customizations and more only at $99 per month.
Read More…
WP Valet

WP Valet is the fastest growing WordPress maintenance service provider that offers a variety of services including security monitoring, updates, site migration and custom development. WP Valet offers plans tailored to specific needs and requirements of the clients and their online business. Other services offered by WP Valet includes data-driven marketing, easy migrations, WordPress development, beautiful design, audits, and ongoing support.
Read More…
WP Minder

WP Minder has been around for quite a while now and has certainly become one of the largest WordPress maintenance service providers. They offer 4 different plans to cater to a wide client base. These plans start at $19.99 and go up to $99 per month. There are various services include such as Security Audit and Recommendations, Spam Comment Cleanup, Database Optimization, Site Performance Check and Recommendations, Twice-weekly WordPress and Plugin Updates, 24/7 Security Monitoring and so much more.
Read More…
Maintainn

Maintainn is a popular WordPress maintenance service provider founded by WebDevStudios. Their monthly maintenance plans start at $49 and includes a variety of services such as theme and core plugin updates, WP core updates, secure off-site backups, around-the-clock security monitoring and add-on hours. They also have $99 per month plan which includes additional services like a 30 minute response time, 1-hour monthly support and online video tutorials.
Read More…
WP Site Care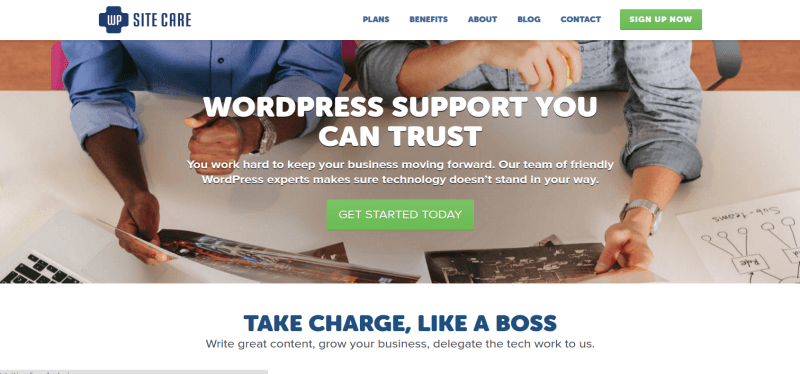 WP Site Care has a variety of different plans which start at $29 per month for plugin and theme updates, daily Amazon S3 backups, and around-the-clock monitoring. Another plan costs $79 per month for e-commerce plugin support, SEO Optimization, premium theme updates, and site performance optimization. The highest plan costs $239 per month which includes additional services such as phone support, SEO analysis from MOZ, and uptime monitoring.
Read More…
The WP Butler

This WordPress maintenance service provider is founded by Dave from DoltWithWordPress and offers custom plans. They let you create your own plan as per your needs and include services like training videos, hosting, development time, uptime monitoring, malware scan, core plugin and theme updates, security monitoring, and backups.
Read More…
The above list is compiled to make the decision of choosing a WordPress maintenance service provider easier for you.
So which service provider are you going with? Share it in the comments section below!