A leader in the VPN brand, NordVPN is one of the best VPN providers which offers services to home and business users who wants to hide their online identity and secure internet browsing. NordVPN has a large server network that includes over 5,227 servers worldwide that guarantees no compromise in internet speed while using their service. It gives you a military-grade encryption, unlimited access to online content without any restrictions, protection for up to 6 devices at the same time for all major platforms, and zero log policy of internet activities so you can enjoy ultimate privacy. It has apps built for major devices and OS in market.
Undoubtably, NordVPN provides the best VPN deals and discounts while maintaining the highest VPN service quality in the industry. We've grabbed below some crazy deals for you specifically for the NordVPN.
What plans are offered by NordVPN?
NordVPN currently offers four different paid plans. The monthly plan will cost $10.50. And, the most affordable and value for money plan is 3-year subscription plan which will costs just $3.49 per month. The only difference in their plans is the pricing model otherwise all plans provide the same features.
It is also worth noting that as the membership duration increases monthly fees decrease. So, if you sign up for a long contract, you'll ultimately save more. NordVPN currently don't offer trials.
In essence, if you opt-in for a 3-year long contract, cost would be 70% lower than its normal price. That's definitely an affordable price for their services.
You can also try VPN for free with a money back guarantee. And If it's not working, you can always get your money back in 30 days!
How to Use NordVPN Coupon Code?
With discount code(s) listed on this page, we assure that you can save up to 70% off the industry leading VPN service. All it takes for you is to follow the steps below to redeem NordVPN coupon code, so you make great savings on the price of NordVPN.
You will need to visit NordVPN website and then click on 'Get the #1 VPN now' button.
This will take you to the subscription page where you can choose from the available plans.
The first step is to choose the right pricing model for your VPN service.
By default, the most affordable and cost saving plan is already selected. This plan offers you 70% off savings worth $283.65 for 3 years.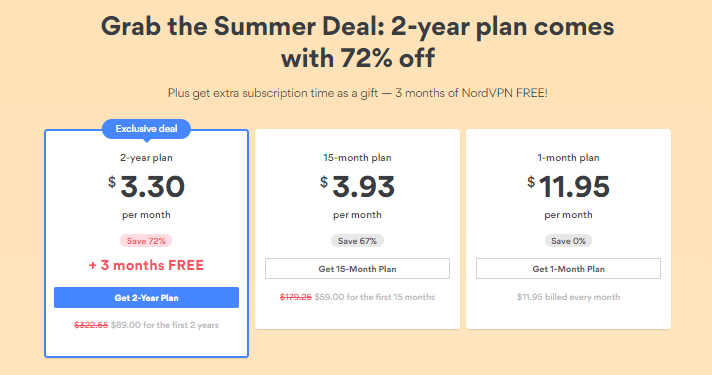 But you're not forced to buy this plan and can make up your choice. However, if you choose 2-year subscription, you will not be savings much as compared to 3-year plan. What I mean is with only $10 extra you can extend your contract 2-year term contract for additional one year.
Next, enter a valid email address to be used for setting up your account.
And finally, you will need to make payment using one of your preferred payment gateways.
Ah, we almost forgot one important thing.
Entering the coupon code!
On the payment section, just below cost break, make sure a valid coupon code is applied. Click on link 'Got coupon' and enter the NordVPN discount code below.
NordVPN offers several ways to make your payments including popular payment gateways like Amazon Pay and Crypto Currency.
Well, it's up to you to choose which payment method is convenient and safe importantly.
We've more amazing deals and coupons for you. Check out this link for Best WordPress and Web Hosting Deals.
More Amazing Deals
Save 10% OFF using ThemeIsle Coupon. Join ThemIsle Club and get instant full-access to 40+ high quality WordPress themes and plugins for only $89 $80.
Join today and save up to 75% OFF on favorite HostGator Web Hosting Plans. Buy Managed WordPress hosting at huge discount and a free lifetime domain.

Get all 94+ amazingly beautiful WordPress themes by Elegant Themes for only $69. Trusted by 550,000+ customers worldwide, Elegant Themes offers a wide variety of WordPress themes to setup your WordPress website.