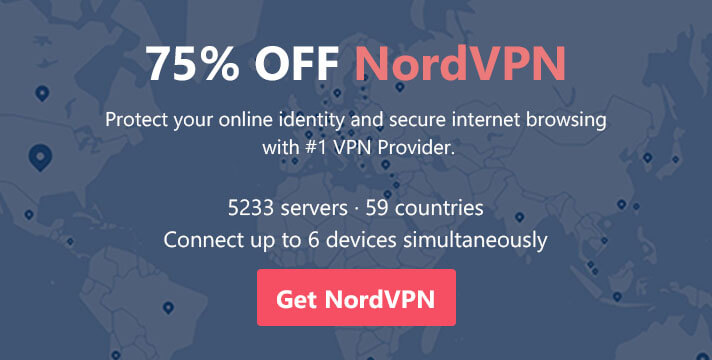 A leader in the VPN brand, NordVPN is one of the best VPN providers which offers services to home and business users who wants to hide their online identity and secure internet browsing. NordVPN has a large server network that includes over 5,400 servers worldwide that guarantees no compromise in internet speed while using their service. It gives you military-grade encryption, unlimited access to online content without any restrictions, protection for up to 6 devices at the same time for all major platforms, and zero log policy of internet activities so you can enjoy ultimate privacy. It has apps built for major devices and OS in the market.
If you are not familiar with the term VPN, take a look at the brief introduction to What is a Virtual Private Network?
NordVPN offers the best VPN deals and discounts while maintaining the highest VPN service quality in the industry. We have grabbed some exclusive deals for you so that you can use them to shop and save at NordVPN.
Benefits of using the NordVPN deal
Besides providing a private and secure tunnel to browse the Internet, a VPN has some significant benefits.
Improved Security
Online Anonymity or Anonymous Browsing
Unlock Any Website & Bypass Geo-restrictions
Change IP / Location
You can enjoy big savings through our great VPN offers, discounts, and coupon codes! Get fast and secure internet browsing anytime anywhere with NordVPN. You can access more than 5,227 servers worldwide and connect up to 6 devices simultaneously without compromising speed.
How Often do you get a NordVPN discount?
We do monitor the deals from NordVPN and timely get reminders about promotions and discounts. So next time, before purchasing any plan from NordVPN, make sure that you read this article to find out the best deals available on NordVPN. You can expect NordVPN sales to be available around the holiday seasons, but this is not where the discount opportunity ends.
NordVPN deals listed on this page can save you lots of cash without much effort to find a valid discount elsewhere on the Internet.
What plans are offered by NordVPN?
NordVPN currently offers four different paid plans. The monthly plan will cost $10.50. And, the most affordable and value-for-money plan is a 3-year subscription plan which will costs just $3.49 per month. The only difference in their plans is the pricing model otherwise all plans provide the same features.
Choosing the right NordVPN pricing plan
It is also worth noting that as the membership duration increases monthly fees decrease. So, if you sign up for a long contract, you'll ultimately save more. NordVPN currently doesn't offer trials.
In essence, if you opt-in for a 3-year long contract, cost would be 70% lower than its normal price. That's definitely an affordable price for their services.
You can also try a VPN for free with a money-back guarantee. And If it's not working, you can always get your money back in 30 days!
Select one of the plans available from NordVPN and surf the internet risk-free.
How can you save big with NordVPN deal?
Usually, Black Friday and Cyber Monday are the best days to buy NordVPN.
Another way to save big on NordVPN is to use our exclusive NordVPN promo. The price for a 3-year long contract will significantly reduce from $11.95/mo to $3.49/mo – that's worth 70% discount.
That's an amazing offer!
You don't have to wait the entire year to wait for the Black Friday offer. ????
How to Use NordVPN Coupon Code?
With discount code(s) listed on this page, we assure you that you can save up to 70% off the industry-leading VPN service. All it takes for you is to follow the steps below to redeem NordVPN coupon code, so you make great savings on the price of NordVPN.
You will need to visit NordVPN website and then click on 'Get the #1 VPN now' button.
This will take you to the subscription page where you can choose from the available plans.
The first step is to choose the right pricing model for your VPN service.
By default, the most affordable and cost-saving plan is already selected. This plan offers you 70% off savings worth $283.65 for 3 years.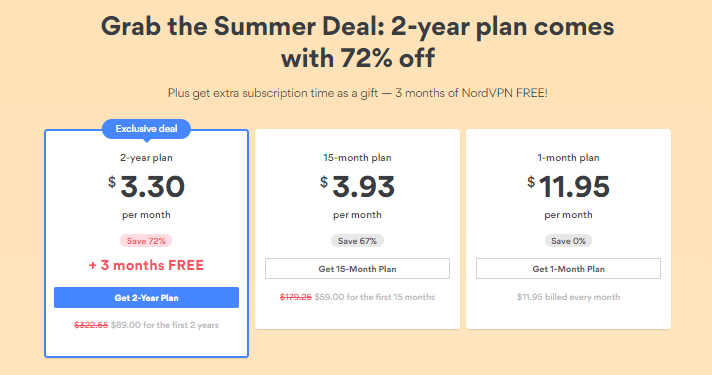 But you're not forced to buy this plan and can make up your choice. However, if you choose a 2-year subscription, you will not be saving much as compared to 3-year plan. What I mean is with only $10 extra you can extend your contract 2-year term contract for an additional one year.
Next, enter a valid email address to be used for setting up your account.
And finally, you will need to make payment using one of your preferred payment gateways.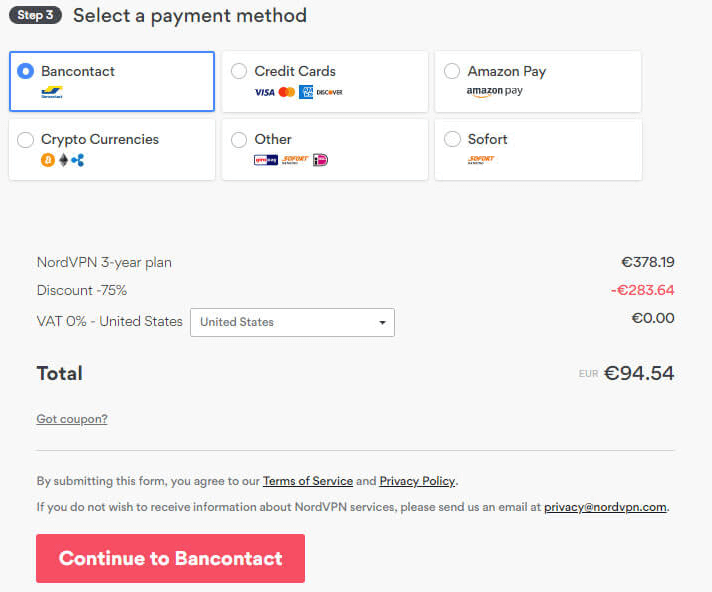 Ah, we almost forgot one important thing.
Entering the coupon code!
On the payment section, just below cost break, make sure valid coupon code is applied. Click on the link 'Got coupon' and enter the NordVPN discount code below.
NordVPN offers several ways to make your payments including popular payment gateways like Amazon Pay and CryptoCurrency.
Well, it's up to you to choose which payment method is convenient and safe importantly.
We've more amazing deals and coupons for you. Check out this link for Best WordPress and Web Hosting Deals.
Disclaimer: This post may include affiliate links. If you click one of them, we may receive a small commission at no extra cost to you. Thank you for your support.