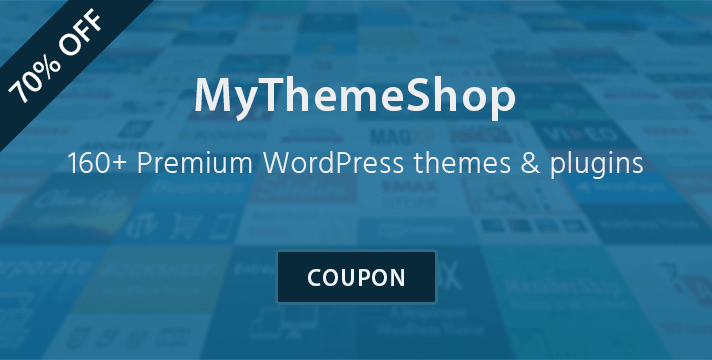 MyThemeShop is an internet-based company who is specialized in making high-quality and super-fast WordPress themes and plugins that are available on an individual basis or all in one package as part of their membership package. Each of their products is built with a specific purpose and loaded with necessary features, and therefore they are not only fast to load, but they also serve their purpose and help you increase your revenue, receive more page views, and help rank you better on Search Engines as well.
MyThemeShop Coupon Codes:
Celebrate MyThemeShop 8th Anniversary Sale with any Theme or Plugin for only $19 (coupon: MTS6)
Buy any WordPress theme for only $19 (coupon: 19much)
Get any Theme or Plugin for 25% OFF (coupon: LimitedOffer)
Get 50% discount on any premium theme or plugin (coupon: FreeToPremium)
Download any premium Theme or Plugin for only $9 (coupon: 9DollarMTS)
Buy Back Offer: any product for $19 and get $10 back (coupon: The19Deal)
Buy anything for only $9 (coupon: 9USDHowTo)
Download 23 Free WordPress themes & plugins​ with lifetime support for FREE!
Buy MyThemeShop Extended Membership for just $67 and get access to all 120+ premium WordPress themes & plugins for the price of one.
With over 152 WordPress themes and plugins, they have helped more than 409K customers to set up their sites and grow them to successful businesses. They always strive for easy-to-use products and pay keen attention to every product to ensure speed and compatibility. Their themes and plugins are clean-coded, free of clutter and with only the necessary options – no overstuffed code.
How to Use MyThemeShop Coupon?
Follow the instructions below to save up to 70% OFF using MyThemeShop Coupon Code and get the best WordPress resources on the internet.
Click on the link to navigate to the MyThemeShop website.
Browse through the products and choose one suitable to your need.
Click on 'Get It Now' button.
This will take you straight to the cart page.
Click on the Redeem Here link.
Copy the coupon code below. You can also try the coupon codes listed above in this article to get the best mythemeshop discount on one or more products in the cart.
Click on the 'Proceed To Payment' button.
Choose your preferred way of payment and complete the order.
After completing the payment, you will get instant access to one or more purchased items from the MyThemeShop website.
Disclaimer: This post may include affiliate links. If you click one of them, we may receive a small commission at no extra cost to you. Thank you for your support.