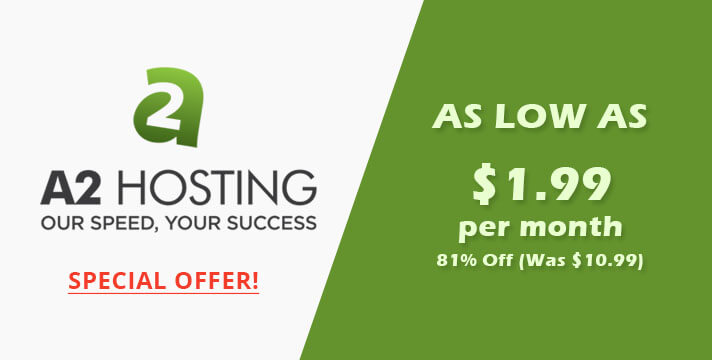 Want to try A2 Hosting? Take advantage of this special offer that will save you 81% on any shared hosting with powerful hardware that delivers 20x faster performance for popular CMS systems like WordPress, Drupal, Joomla. A2 Hosting is a cost-effective hosting provider, offering a blazing fast web hosting solution perfect for your unique business needs. Whether you're a starter or a professional developer or own a popular business site, A2 Hosting has got you covered! It offers amazing features to optimize your website with no compromise on quality. If you're looking for cost-effective hosting A2 Hosting is an option as it offers services from low-cost web hosting to VPS to managed hosting all at an attractive price.
How to Use A2 Hosting Coupon Code?
To redeem the coupon code, visit A2 Hosting website. It takes you to the home page where it shows the most popular plan from different categories such as Managed VPS, Shared Hosting, Dedicated Server, Turbo boost hosting, and Unmanaged VPS. You may navigate through the different hosting types to understand what each type has to offer and once you have found the right package, click on 'Get Started' button.
Here, you need to choose your new domain name or use an existing one. You can also transfer your domain from another registrar for free. Click on 'Check' button and if your domain name is available, continue with the next step.
Here, you can apply the coupon code and confirm the discount. You can optionally add other addons to your hosting package. Next, click on 'Continue' button.
On the next page, it will ask you for the Domain Configuration. Tick the options you want to opt for and continue. This takes you to the final checkout page where you can validate your order and make payment.
There are several options for payment such as PayPal, Skrill, Bank Transfer, Credit/Debit Card, Check, and Money Order. Choose your preferred method and complete the order.
That's it. 🙂
I hope you liked this article. Help save your colleagues by sharing this article. 😉
Disclaimer: This post may include affiliate links. If you click one of them, we may receive a small commission at no extra cost to you. Thank you for your support.