A blog or website that is related to beauty or fashion industries needs to look eye-pleasing. A clean, usable layout, with an easy-to-navigate structure and an appealing visual presentation – this is all that the 15 templates hand-picked for this compilation are about. Whether you need to build a blog, a salon or spa site or a web resource representing a tattoo salon, below you will find a template that meets your specific requirements.
All pre-designed themes from this collection were designed and developed by TemplateMonster. A well-known provider of ready-made web design stuff, the company releases WordPress themes compliant with the latest web standards. Their inventory includes more than 1200 WordPress themes of different styles and for multiple purposes. In this chart, you will find the trendiest and most popular beauty WordPress templates that boast stunning visual presentations and powerful sets of customization options.
TemplateMonster has stuffed the themes with such custom features as Power drag-and-drop page builder, WordPress Live Customizer, Appointment manager plugin, a number of widgets and custom modules, pre-designed layouts, and a whole lot of other options. All themes are well-documented and include free 24/7 support. Free video step-by-step instructions on how to modify the templates are available for free public access. Startupers can benefit from free guides and eBooks provided by Startup Hub. All this will come in handy to you while customizing the chosen template on your own.
If you wish to get all customization job done for you, then you will be interested in the serviced provided by TM Service Center. A qualified team of professionals will get your site live within 24h.
Hair Salon WordPress Theme
Built in fair colors, the theme is best suited for presenting beauty and healthcare projects on the web. This a fully responsive ready-made design. It includes everything needed for an effective presentation of both visual and written content. Power page builder allows you to create versatile layouts by simply dragging and dropping different elements. Multiple layout options, modules, widgets, and custom plugins are integrated to speed up the process of the theme's modification.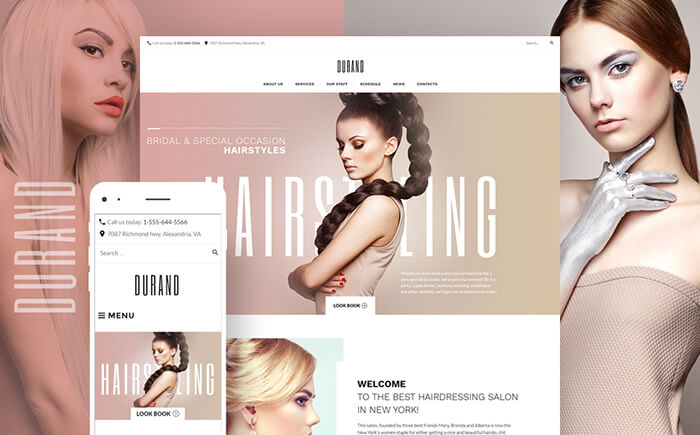 Barber Shop WordPress Theme
The template is licensed under GPL v3.0, which gives you the total freedom of using it on an unlimited number of web resources. It is also integrated with Power drag-and-drop page builder. Multiple layout options are included to let you personalize the content presentation with ease.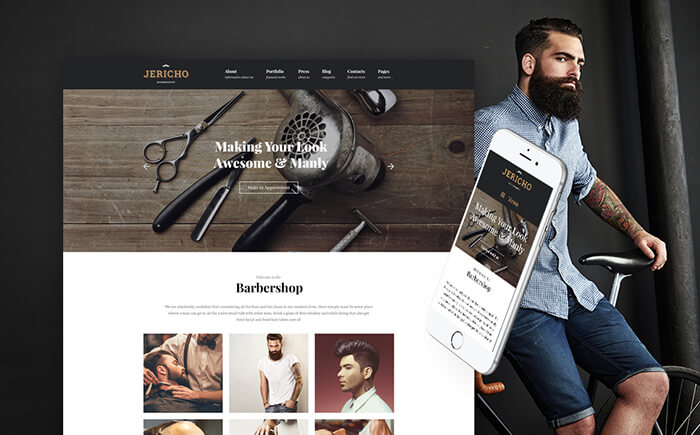 Spa Health – Skincare WordPress Theme
Make use of this template for building beauty and spa sites. Crafted with valid, semantic code, the theme is compliant with the latest web standards. The layout is quick-to-scan, featuring readable well-organized texts. The template is integrated with an appointment manager, allowing users to make a reservation online.
Massage Salon Responsive WordPress Theme
This GPL-licensed WordPress template includes WordPress Live Customer. With the help of this handy tool, you can apply changes to the theme's layout and see the results of your work straight away. Developed with valid, semantic code, the template is SEO-friendly, ensuring that your website will get more visible in search engines.
Spa Accessories Responsive WordPress Theme
Featuring a clean and clear design built in fair hues, the template is a perfect match for bringing a tranquil atmosphere to spa sites. The layout features the parallax scrolling effect in the photo backgrounds. To make it easier to navigate the site's pages, the theme includes a sticky drop-down menu. Social sharing icons guide the users to your official profiles. A block with user testimonials is intended to grow the users' trust in your business.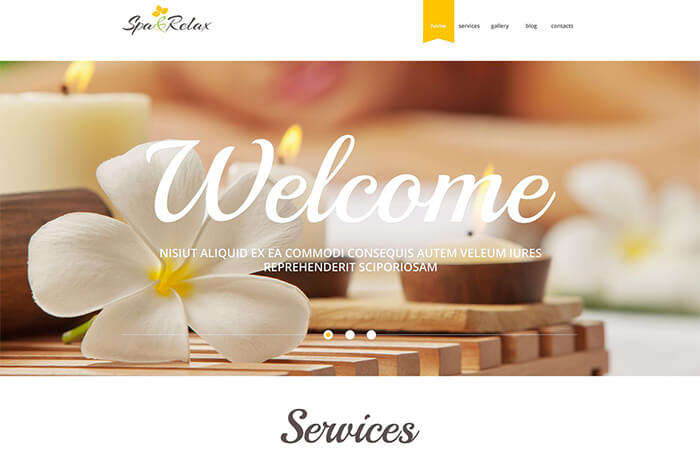 Massage Salon Responsive WordPress Theme
Get this fully responsive WordPress template for presenting massage salons on the web. A simple layout structure of the template is intended to bring the services/products provided by a company in the spotlight. The theme is quick and intuitive to navigate. An integrated contact form can be found at the footer of the front page.
Tattoo WordPress Theme
Unlike the previously described themes, this design is ready to bring tattoo salon websites live straight out of the box. The layout features a split screen technique, allowing you to present several types of content side-by-side. Cool animation effects are also integrated into the theme for a more effective visual appeal.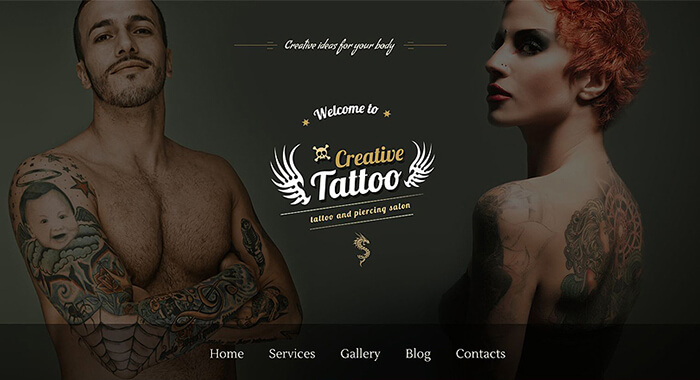 Beauty Salon Responsive WordPress Theme
Featuring light and dark purple design elements, the theme boasts a refined, captivating look. The layout is quick and easy to scan. Different content blocks are visually separated from one another. The theme's navigation elements are touch-friendly, providing smartphone and tablet users with a seamless browsing experience.
Responsive Tattoo Salon WordPress Theme
Intended for building tattoo salons, the template features a carousel slider that brings the users' eye to your featured works once they land on the page. In addition to an effective showcase of featured projects, the homepage also provides quick links to the pages of artists whose artworks you demonstrate.
Beauty Salon WordPress Theme
The theme will appeal to those users who prefer simplicity in web design. Built with the focus on content, it presents beauty services provided by a salon clearly. Images and texts make up a perfect balance on the page, providing for its better readability.
Plastic Surgery WordPress Theme
Get this theme for medical, healthcare and beauty sites. It is built in neutral blue hues, which are intended to appeal to the wide web audience. The template includes multiple layout options to choose from. Power page builder will only speed up the process of the theme's customization.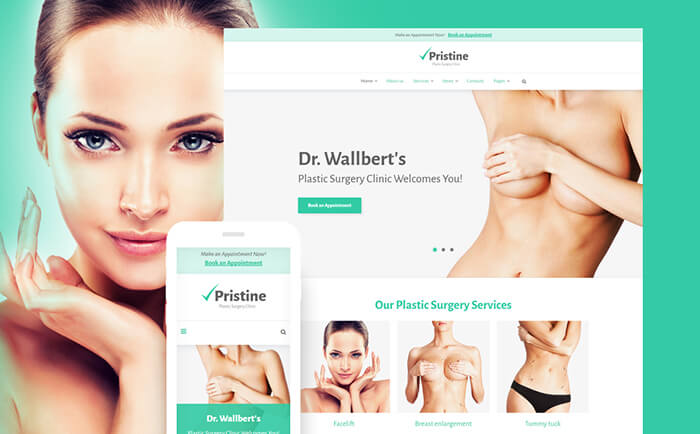 Hair Salon WordPress Template
Use this theme for hair salon and plastic surgery sites. Crafted with care, this fully responsive WordPress theme is SEO-friendly as well. An integrated appointment manager welcomes the web users to book an appointment on the site.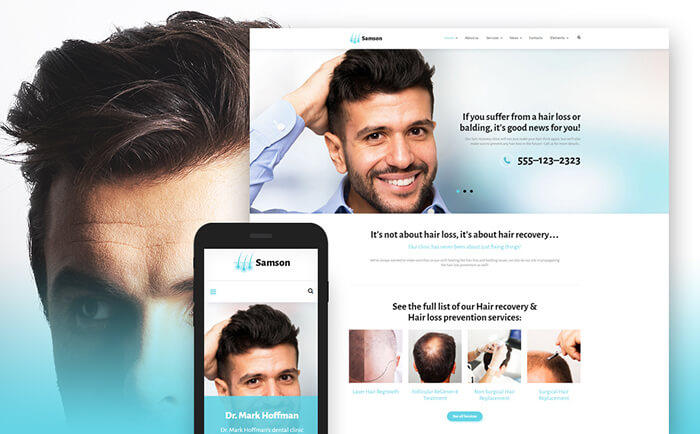 Fashion WP Theme
The theme will bring a stylish, refined look to fashion and beauty blogs. The theme is integrated with a functional, fully editable MegaMenu, which remains fixed-to-the-top of the page as the users navigate the page. The parallax scrolling effect adds the illusion of depth to the template. Retina ready images guarantee the top-notch display of your site's data on the last-generation screens.
Style Blog WordPress Theme
The theme will work well for fashion and beauty blogs. It is pre-loaded with everything needed for a clear presentation of blog posts. The theme is integrated with social media options. A commenting system welcomes the web users to leave feedback below the preferred post.
Photographer Portfolio WordPress Theme
This theme will become a rock-solid foundation of a number of online portfolios. It runs on Cherry Framework 5 and includes GPL license. Pre-loaded with Cherry Projects plugin, it provides to an impressive showcase of a creative portfolio. A selection of custom widgets is also included to enhance the theme's functionality.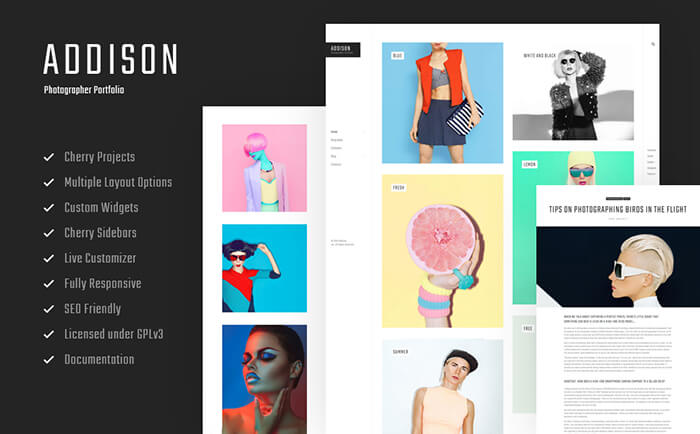 Hair Transplant Clinic WordPress Template
The theme will be a perfect match for medical and healthcare sites. The header includes a page-width carousel slider, introducing the audience to what specific kind of services a site represents. The backgrounds include parallax scrolling effect. Images and banners reveal additional data on the mouse-over. A drop-down menu remains fixed to the top of the page.
If you are a TemplateMonster's affiliate or just think about becoming a partner, then the following free eBook should come in handy to you. Downloading it, you will get a deeper insight into all benefits that the program can bring to you as a partner.