Interested in starting a cryptocurrency blog but have no clue where to go? With this collection of best WordPress templates for a cryptocurrency blog, that's simple as that. Quickly. You know what, blogging can simply change your life for better. Taking into account that cryptocurrency blogs are all of the buzz lately, you'd better hurry up. With so much talk about the digital currency marketing, your cryptocurrency blog can make a roaring success. At every turn, there seems to be a new cryptocurrency launching, so position yourself as a cryptocurrency expert in this hot market. At the same time, this market is relatively new.
Once your cryptocurrency blog is set, share information and guide society through the cryptocurrencies developing in the future. And by the way, Bitcoin hasn't just been a trendsetter. There are a plenty more fish in the sea – Litecoin (LTC), Ripple (XRP), Ethereum (ETH), and more. A new cryptocurrency can be created at any time. Every new cryptocurrency tries to present itself as modified or improved version of Bitcoin. The slightest bit of news can cause the value of any cryptocurrency coins. So, staying on top of this news is critical if you wish to succeed in cryptocurrency blogging.
Why Choose WordPress Templates for a Cryptocurrency Blog?
Have never created a website before? Don't fret. WordPress is the platform to trust. Make no mistake thinking that only experienced developers can cope with this task. State the facts: thanks to versatile and easy to use WordPress platform the creation of a website has never been easier before. Here's the thing. There's no technical skills or previous experience required. You just get a WordPress theme for a cryptocurrency blog instead of having to design a whole website. Think of it as a dress for your cryptocurrency website.
Picture this: you open a wardrobe and see thousands of ultra-modern clothes for different occasions. Sounds great, right? The same here. WordPress offers thousands of sleek, modern and eye-grabbing finance WordPress themes. Depending on your business niche, you choose the theme that suits your requirements best and customize it until you're proud. No programming or coding skills are needed. Just tweak its layout to look the way you need.
Let your cryptocurrency blog be simple and easy to navigate. Help your visitors find what they're looking for. Let them check the expert opinions, reports, or insights from the best writers in the fintech sector. Add some of the coolest infographics, images and graphics content to engage and entice your visitors to explore your cryptocurrency blog for more. It's important to note, that all of these best WordPress themes for a cryptocurrency blog are responsive, cross-browser compatible and built around the modern technologies. So, keep peace in mind that your cryptocurrency blog will look awesome on different last-generation devices and screen resolutions.
What's more, this collection of WordPress templates is not structured hierarchy. This means that the first theme on this list is not necessarily the best, which means that the last one is not the worst. Well, to sum up, here you'll only find the best of the best WordPress templates for a cryptocurrency blog. So, let's get started.
ChainBit – Bitcoin Bitfinance WordPress Theme
If you're looking for a WordPress theme that is easy to configure, end your search here. This SEO-friendly theme can help you attract more organic traffic to your cryptocurrency blog. It includes several pre-designed web pages that can be used for representing of all essential information. With ChainBit, building your cryptocurrency blog can be a breeze.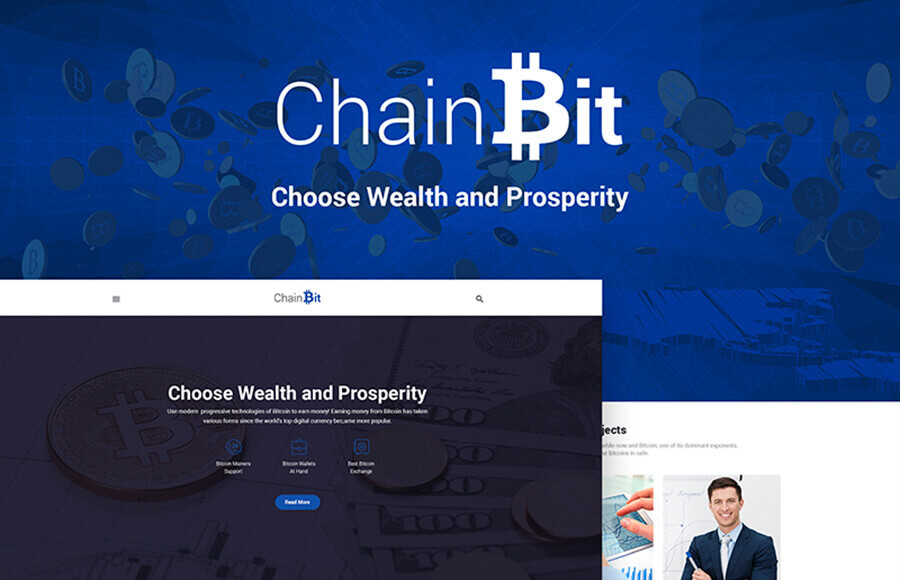 BitUnit – Bitcoin Cryptocurrency WordPress Template
BitUnit is a great specimen of the best WordPress templates for a cryptocurrency blog. If money digitization is essential for you, you'd better hurry up. Create an attractive cryptocurrency blog and capture the attention of your target audience. Crafted with care, the structure of BitUnit is optimized to reach the top of search results. With Live Customizer, adjusting the overall look of your blog is as simple as that.
Buyinto – Business Investment & Management WordPress Theme
Grab this 100% GPLv.3 licensed WordPress theme to use it on multiple web projects without any restrictions. Being a fully responsive template, Byuinto looks awesome on any type of modern device and browser. Thanks to a set of flexible Cherry plugins, you can showcase your projects in the best light. Well, the theme includes over 25 content modules to help you change the overall look of your design and modify its components. Don't miss it out.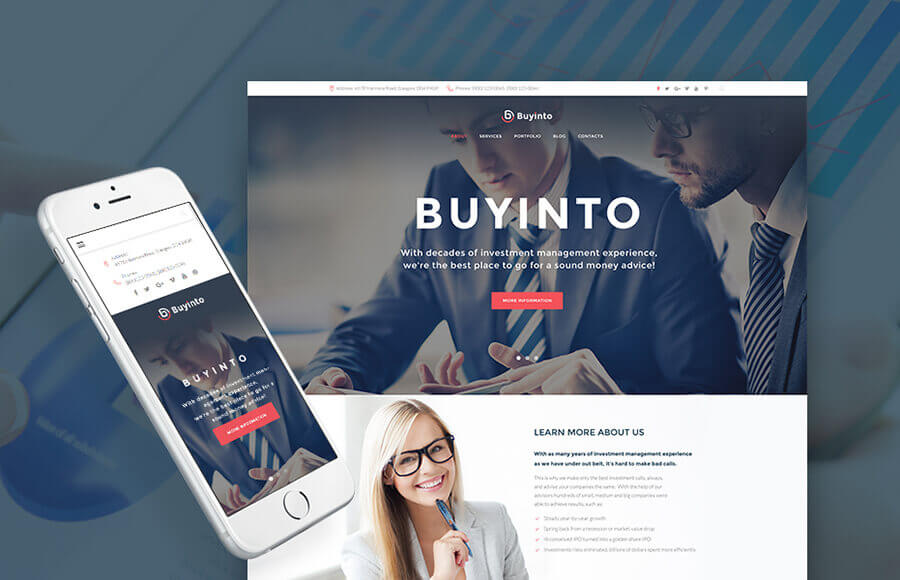 Imperion – Multipurpose Business & Corporate WordPress Theme
Imperion is a hassle-free theme that can help reinforce the brand message of your cryptocurrency blog. It comes with an elegant and fully responsive layout that performs greatly on a variety of devices. With About Us page, represent your business to gain the attention you need. Besides, the theme is SEO-friendly, Ecwid ready, multilingual, and cross-browser compatible. Explore the power of Imperion to achieve your every desire.
Dollarex – Investment Company & Finance WordPress Theme
Face it, remarkable and high-quality content lead to more views. Dollarex can be a great way to start a cryptocurrency blog without any hassle. Simply enjoy tweaking the theme in a visual mode. Customize it as per your liking to make your cryptocurrency blog stand out. Moreover, the easy-to-follow documentation guides you through each step of setting up the theme. Did we mention that it's 100% GPLv.3 licensed and Ecwid ready?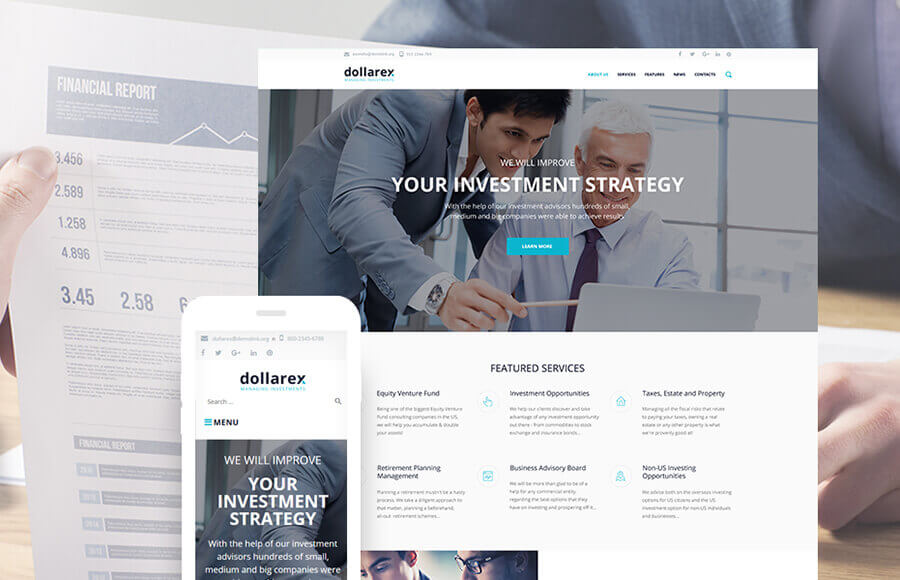 TradeBit – Bitcoin-Trading Finance WordPress Theme
Take a look at another specimen of the best WordPress templates fora cryptocurrency blog. This Parallax theme can help get your finance website started in no time. It includes a large number of ready-made components, such as pop-ups, timer modules, photo galleries, and more. Get people to pay attention to your cryptocurrency blog using different design elements like typography, color schemes, etc. Make the spotlight turn to you. Happy trading!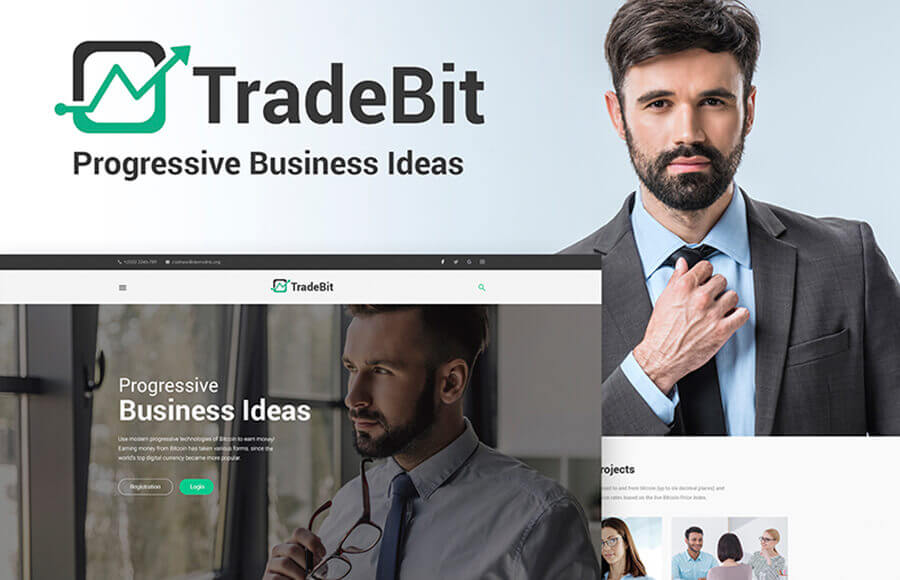 Digitalium – Marketing & Analytics Agency WordPress Theme
This clean and responsive WordPress can be a great choice for your future cryptocurrency blog. Yet, a marketing or any other finance web project is no exception, too. Create a website that can promote your marketing or analytics agency 24/7, 365 days a year. Enjoy a wide array of customization options jam-packed in this theme. Experiment with styles until you're proud.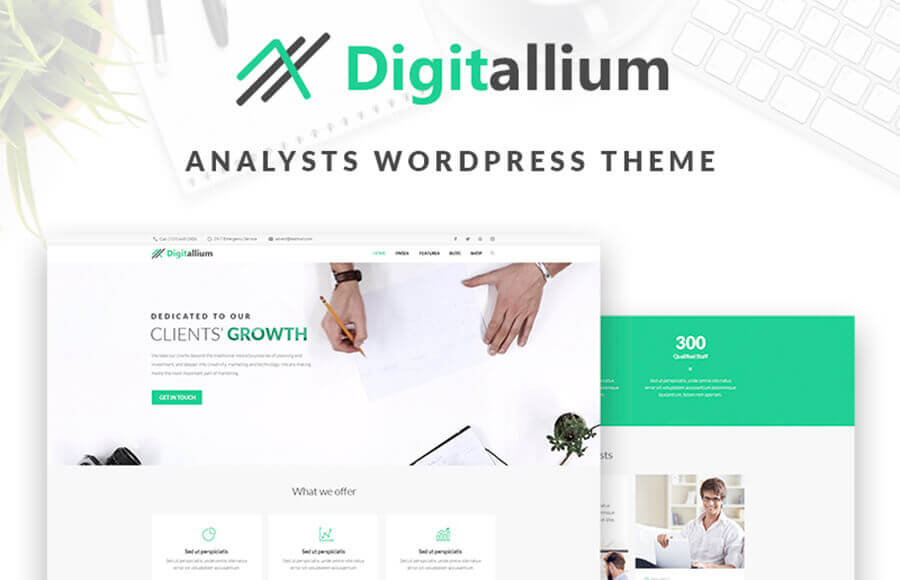 TopMiner – Cryptocurrency Blog WordPress Theme
You simply can't pass on this modern WordPress theme for a cryptocurrency blog. Its clean and responsive layout works smoothly on different modern devices and screen sizes. Tweak the overall look of this theme with ease, as it has a lot of useful settings. Built with Elementor Page Builder, the theme comes with a bulk of well-designed modules. Enrich the functionality of your site with online booking appointment system.
TopInvest – Investment & Finance Company WordPress Theme
Grab this solid ЦordPress theme and create your own investment website in no time. Enjoy its stylish and clean layout, responsive design, and a bunch of customization options. Do everything in your power to make your site a roaring success. On top of that, it's WooCommerce compatible, meaning that you can start selling different goods and services in no time.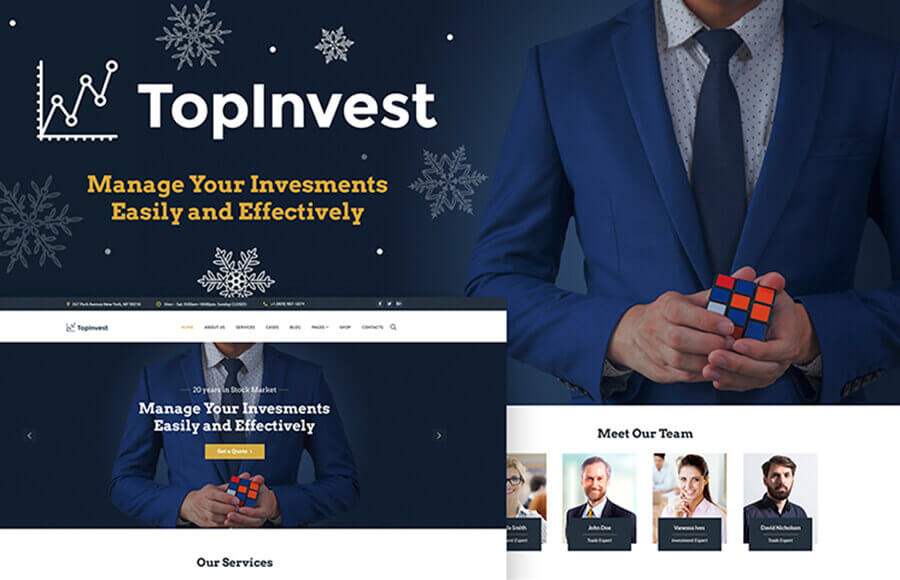 MineBit – Bitcoin Cryptocurrency Blog WordPress Theme
A clean and stylish WordPress theme can be a true bounty for your bitcoin website. Customize the design of your future site with the help of the drag-and-drop editor. Enjoy a bunch of advanced options, 7 flawless headers, 3 different footer, 4 blog layouts, and more. Moreover, the theme is SEO-friendly, Ecwid ready, multilingual, and comes with different web forms. MineBit is your key to success. Enjoy it.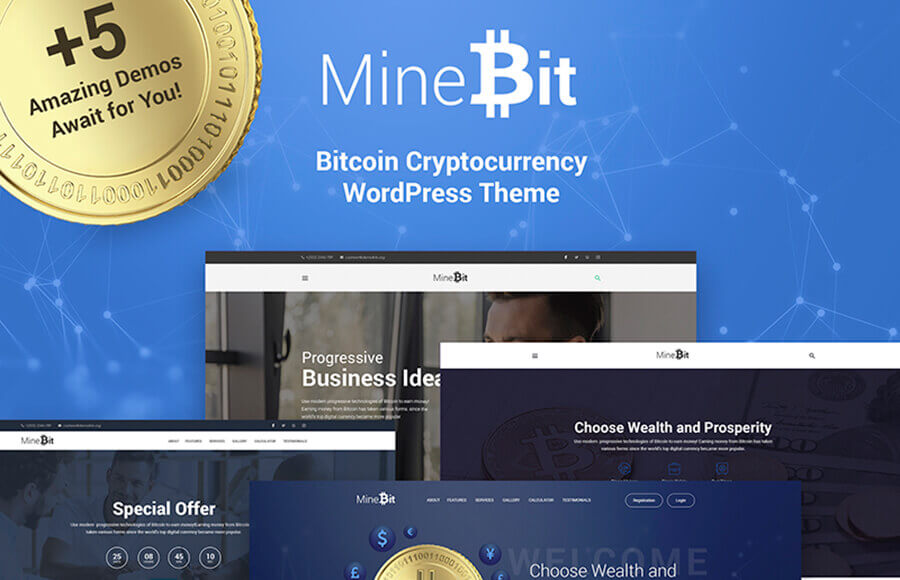 The Bottom Line
On the face of it, it seems like a great idea to start a cryptocurrency blog to help people see how this hot digital market will develop in the future. Who knows, maybe we'll face a real revolution in monetary systems. Yet, this will be in the future. But today don't waste your time. The world of cryptocurrency has never been more exciting, and starting your cryptocurrency blog has never been easier.