20 Best WordPress Themes for a Beautiful Blog Creation
Successful blogging is a lot of work. Does your business have a blog? If no, keep on reading to start a beautiful blog in no time. Like it or not, but a great designed blog is one that does things, attracts readers and drives traffic. No matter the purpose of your blog, be it a hobby, e-Commerce, passion to say something or advertise, figuring out your niche market is of vital importance. Choose your reason and get ready to experience wonderful opportunities to strengthen your online presence. As the result, feast your eyes on the 20 best WordPress themes for a beautiful blog creation collected here. All of them offer you a sea of options to reach and serve your targeted audience. There is no room for error, especially regarding a gifted TemplateMonster's team. Let's take a look at these worry-free solutions and choose exactly what you need to launch your blog fast.
But, before you can even start worrying about how your blog will look like, there's something more important to think of. What platform would you choose to stay on the safe side? Without a doubt, WordPress is the boss CMS platform with the clear advantage. It's simple logic: WordPress is a free, user-friendly and highly customizable platform that powers over 27% of all websites globally. A huge number, isn't it?
No other platform can give you that kind of control, freedom and almost endless customization options that WordPress offers. Don't believe us, go with WordPress and seize its opportunities even with a skill gap. What's more, there are literally thousands of free and premium, beautiful and powerful WordPress themes out there. Here comes the hardest part – decision-making. It can get confusing, though we've done the work for you. We've collected only the best, flexible, SEO-optimized, clean and responsive WordPress themes for a personal blog.
Depending on your industry, marketing strategies and your targeted audience tastes, stay creative and think like your users. Truth is, a blog is a surefire way to step outside the bounds of your entire site and reflect the essence of your brand. Take a look at these thriving collection of best WordPress themes for a styish fashion blog worth your attention. The best part is that there is no need to reinvent the wheel, instead tweak the layout to fit your particular business needs. Just model the best. Make sure any of these handily picked WordPress themes feature responsive layout, intuitive navigation, custom plugins and modules, SEO-optimization and plethora of configurations and settings to create an absolutely personalized blogging page. Feel inspired by this collection. No matter what theme will you choose, any of them will give you a fresh and elegant look for sure.
Instead of waiting in line, challenge yourself, go with WordPress to simply hook up your blog page in minutes. That's the a-ha moment. Fear not to enjoy these fashion blog WordPress themes and let the ideas roll.
20 Best WordPress Themes for a Beautiful Blog in 2021
Fashionia – Fashion Blog WordPress Theme
Create your trendy and eye-catchy fashion magazine to stay on-trend today. Fashionia is 100% GPLv.3 licensed WordPress theme tailored for beautiful blogs, online magazines or fashion news portals. View the live demo to enjoy this template in action. Fear not to capture the attention of your visitors. Give it a shot now!
Glossy Look – Fashion and Lifestyle Blogging WordPress Theme
Get your hands on this nice and minimalist WordPress theme intended for powerful and stylish blog pages. It comes with a clean, elegant design, cross-browser compatibility, clean valid coding, SEO-optimization and responsive layout. Your beautiful site will work smoothly across all last generation devices and screen sizes. Make a compelling case to increase 'word of mouth' by your customers. Let's get started.
StarGaze – Celebrity WordPress Theme
One of the best WordPress' themes crafted for media websites. Fear not to use white space with clever. Play around various settings, customization options, and font styles to match your particular needs and tastes best. Grab this beautiful WordPress theme that gives you the free will to create a personalized blog that boosts sales.
KingNews – Magazine, News Portal and Blog GPL WordPress Template
Do you want to get more visitors flocking to your site? Easily! Choose this nice, premium WordPress theme well-suited for magazines and newspapers. Without having to hack into any code, you can tweak the layout of the theme to fit your requirements. If you're serious about improving your online presence, Kingnews is the way forward in achieving your aim.
Editorso – GPL Writer WordPress Template
Get completely tuned up with this professionally built WordPress theme ideal for blogs and online portfolios. The theme is 100% GPLv.3 licensed, SEO-optimized, easy to use, cross-browser compatible, WPML ready and responsive. Give this truly beautiful interface a try today to create an attractive site with no extra cost. Are you ready to make your pick?
Travelop – Travel Blog WordPress Theme
Get redy to experience this nice and minimalist WordPress theme designed to meet the needs of travel blogs. Truth is, the theme is easy to customize and creates a positive impression. Establish a successful blog and get the maximum leverage from the Web. Feel inspired now.
BitNews – Blog & News Portal WordPress Theme
If you have something to tell and show, create a beautiful blog page and make it easy for your readers to browse it. This WordPress theme features responsive design, so it looks great when viewed on any device. Add sticky content and gorgeous images to deliver an amazing experience to your readers. Give it a try today.
Waylard – Fashion Blog WordPress Theme
Feast your eyes on this beautiful blog WordPress theme built with creativity in mind. A huge set of premium widgets, awesome fonts, intuitive navigation, mobile-friendly design and a clean valid code give you the free will to customize your blog layout to fit your needs the best. Convince your visitors to stay and engage, together. Ready to make your way to the big league?
LifeHealth – Lifestyle Coach WordPress Theme
Turn your site into a visual masterpiece using this beautiful and clean WordPress theme. Build a website that stands out from the pack and represents your idea in the most appealing way. Customize the layout of the theme with your eyes shut. Change the overall look to match your business requirements best. Create a more personable experience for your viewers.
Trendomania – Fashion Blog WordPress Theme
Look at this nice and modern WordPress theme with a great attention. It comes with all essential features and editing options you may need to build a solid lifestyle, fashion or personal blog page. So, go ahead, view the live demo and explore more features included in the pack. Really, it's that simple.
Kustrix – Fashion Blog WordPress Theme
Another nice and modern WordPress theme intended for personal, fashion and beauty blogs. Designed in mild tender colors, the theme delivers aesthetically pleasing look combined with robust functionality. Add more personal touch to your blog page and boost conversion rates. Choose this template now to stay on-trend today.
Style Park – Fashion Blog WordPress Template
Want to build a beautiful blog page for cosmetics and beauty purposes? Great! Grab this modern, bright and powerful template to create a modish and stunning site in a minute. The theme comes with a calendar, newsletter subscription, social media, video integration, and more. This 100% GPLv.3 licensed template gives you the freedom to use it for several projects. Give it a try now.
Vegetexia – Vegan Blog WordPress Theme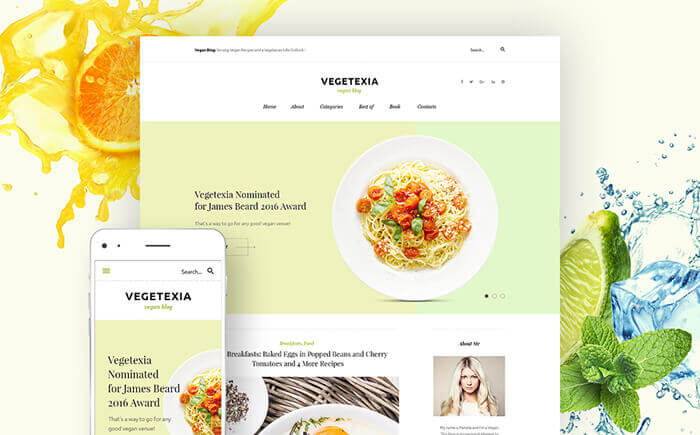 Vegetexia is a clean and attractive WordPress theme designed for food, personal or business blogs. It comes with the responsive, flat design without distracting elements, a plethora of options for easy customization and a great 24/7 custom support. Give your visitors an idea that your blog is fresh, interesting and up to date. Simply stun them at the first sight and convert visitors. Grab it.
Fashion Spot WordPress Template
This nice and modern WordPress template crafted with care is a perfect choice for fashion and beauty online projects. The theme is cross-browser compatible and responsive so your readers will enjoy your site from any digital devices and modern browsers. In addition, it comes with a commenting system, awesome fonts, WPML support, a contact form, and more. Get all the assistance needed with its great 24/7 support team.
TripTastic – Travel Blog WordPress Theme
Grab this eye-catching and modern GPLv.3 licensed WordPress theme intended for personal, travel or business purposes. Thanks to a huge range of customization options, you can spread the word about your web project and reach new visitors. Customize the layout of the theme with your eyes shut. View the live demo to see the theme in action. Feel inspired.
Simona S – Personal Page WordPress Theme
Simona S is a user-friendly, nice, simple yet effective WordPress theme perfect for building personal or business blogs. If you want to peek interesting for your readers, grab this worry-free solution, push limits and express yourself in a unique way. The theme is responsive, cross-browser compatible, SEO-friendly, WPML ready, and more. Click the live demo button to get some inspiration.
Steven Mosk – Professional Photographer Portfolio WordPress Theme
Developed with the simple idea to meet the needs of all creative minds, this WordPress theme is a fab way to create a positive impression. Thanks to its flexible structure you can change the overall look of this template without breaking a sweat. Besides, SEO-optimization helps rank your website higher in the search engine results and get the maximum leverage from the Web. Grab this template to ensure your site does exactly what you need to do.
Artwork Creative WordPress Theme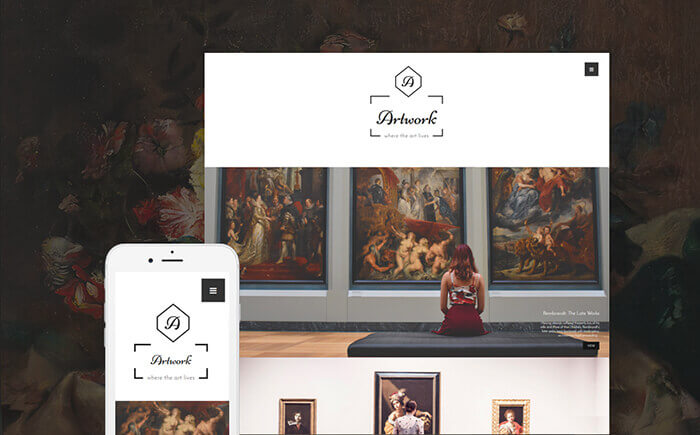 Feast your eyes on this creative, attractive and gracious WordPress theme tailored for art and photography websites. This is a cunning way to promote your web project, stirring the interest of your viewers and increasing conversion rates. Fear not to use white space to break up your content and guide your visitors throughout the entire site. It features hundreds of colors and fonts, a variety of post formats, MotoPress editor, a Contact form, and more.
City Herald – Media News WordPress Theme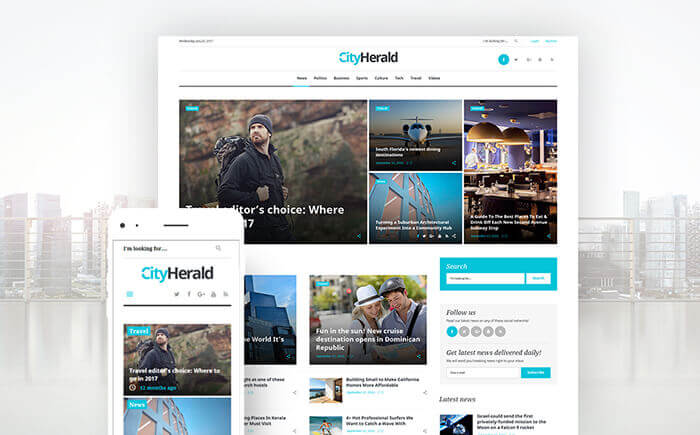 Want to beat the competition? It's that simple. By means of a modern, responsive and GPLv.3 licensed WordPress theme you can stand out from the pack. Build up a beautiful blog page and spread the word about your web project without breaking the bank. Deliver an amazing experience, fresh and interesting information to your viewers to survive in the sea of competition. What are you waiting for? The sky is the limit.
Blogging GPL Bundle of WordPress Themes
A GPL bundle of 5 WordPress themes intended for beautiful blogs, online portfolios, and news portals is second to none solution for those who are serious about improving their online presence. Get all the required help needed with a great 24/7 custom support team. Even if you don't have a sharp eye for design, a plethora of customization options allows you create a full-fledged blog page with no effort. What's your choice?
Disclaimer: This post may include affiliate links. If you click one of them, we may receive a small commission at no extra cost to you. Thank you for your support.