WP Rocket is a powerful cache plugin that will make your website blink super-fast. The plugin is packed with many rich features such as page caching, browser caching, database optimization, lazy loading, CDN, and many more, it's an all-in-one solution for optimizing your WordPress site. It enables you to deliver high-quality, superior digital experience to your end customers. In essence, WP Rocket is so useful that it not includes just caching but offers many other features out of the box that optimizes your website on various other aspects.
WP Rocket offers coupons a few times a year on special occasions such as when an achievement marks a major milestone for the company or especially during black Friday and thanksgiving sales period.
How to Use WP Rocket Coupon Code?
Am sure you're one of those who really wants to make your WordPress website load faster. Aren't you? Off course, it's one of the essential elements for your website and so is critical for your business. Now, all you need to do is follow the steps and apply WP Rocket coupon code to make
great savings in return.
First, browse to WP Rocket website.
Next, visit the pricing page.
WP Rocket currently offers three subscription plans.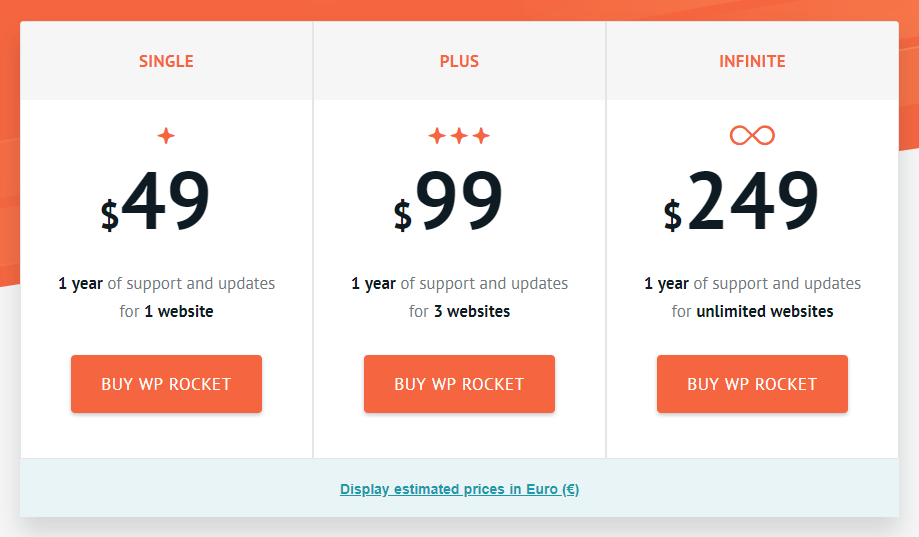 The affordable plan starts at $49 per year including one-year maintenance support with free updates. The starter plan allows you to install and use this plugin only on one website.
If you're planning to use their cache plugin on more than one website, you would be better off going with higher plans, either $99 per year which includes plugin usage on up to 3 websites or unlimited websites which would cost you $249 per year.
Once you've selected the plan. Next, you need to enter your personal details to sign up for WP Rocket as a customer.
All you need to do is enter very basic information like your name, email and country.
And finally, you can choose one of your preferred payment gateways to make purchase.
Up on checkout, remember to enter the coupon before hitting Place Order button. 😊
We hope that you really liked this page and have saved some money using the WP Rocket coupons embraced here.
It's time for you to help your colleagues save money by spreading this info on social networks.