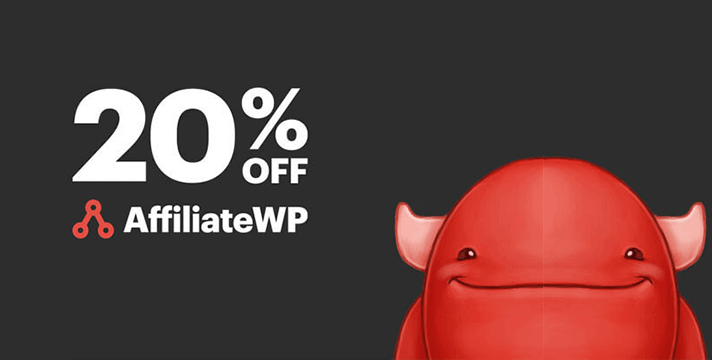 AffiliateWP is an affiliate marketing solution that integrates well with almost every website built using WordPress. It has all the tools needed to setup an affiliate marketing solution to help you generate more traffic to your website and boost your revenues. It provides an easy setup to integrate quickly with your website so that your affiliates can start promoting products and/or services in no time. If you like this affiliate solution, you can try our AffiliateWP coupon codes below that can save you up to 25% on your orders at AffiliateWP.
Get 25% discount on all AffiliateWP Subscription Plans. Copy this coupon code
BFCM2020
and apply it during the checkout.
To mark the end of Winter, AffiliateWP is running a special promo offering a 20% discount on everything in store. Use coupon code
WINTEREND2019
on checkout.
How to Use AffiliateWP Coupon Code?
To save maximum on your orders at AffiliateWP, Black Friday and Cyber Monday promotions are the best times when they run their biggest sales of the year. To successfully redeem the coupon code, follow the instructions below and during the checkout process, you should see a box to enter the code.
First, visit the AffiliateWP website. Next, click on the Pricing menu link from the header navigation.
AffiliateWP currently offers two subscription plans: Ultimate and Professional. The second option, Professional Membership, may look an affordable way to get started with AffiliateWP.
From the image above it is very straightforward to understand the benefits of the two plans.
Choose the correct pricing or subscription model you want to buy and click the PURCHASE button underneath. This shall redirect you to the checkout page.
Here, you will see the AffiliateWP plan membership you have selected to pay.

In the cart, you will see a box here to enter the coupon. The box is usually visible when a valid promo is running that offers a sitewide discount.
Apply one of these AffiliateWP coupon codes (updated daily) to get the best discounts on your purchases at AffiliateWP website.
Next, scroll down a bit and you will see the different ways you can make the payments.
You can choose to pay using PayPal or Credit Card.
If you decide to pay using PayPal, it will take you to the PayPal website where you can securely make your payment and complete your purchase.
Additionally, you will also need to provide some basic personal information that will be used to setup your account to allow you to download the plugin once the payment is processed.
Next, click on the Purchase button to complete the checkout process.
That's it. 😉
Still… looking for AffiliateWP alternative?
You might also want to look at other useful coupons:
Disclaimer: This post may include affiliate links. If you click one of them, we may receive a small commission at no extra cost to you. Thank you for your support.