How to Improve Your Online Project: 5 Crucial Web Design Tips for a Professional Website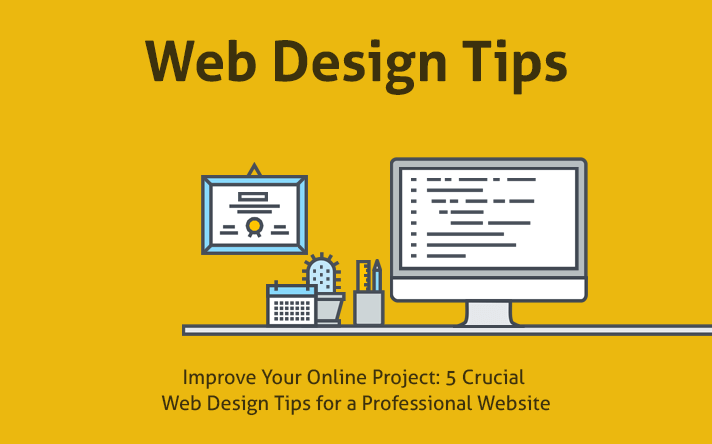 Without a doubt, 2018 brings us another way of seeing! For these simple reasons, now is a perfect time to rethink your business strategy. Carolyn Chute said: 'I like starting projects in January. That's the best time to start something. It's so inward.' Seeing that, we have prepared for you 5 crucial web design tips. These simple but effective rules will help you to design a modern, beautiful, and professional online project. Are you ready to improve your site's appearance? Would you like to enlarge your audience? Do you want to stand out from the crowd? In this case, the post you are looking at is just what the doctor ordered. Therefore, let's begin!
5 Tips for Improving Your Web Design in 2021
1st Web Design Tip: Make Sure That Your Site's Navigation Is Comfortable
At the outset, comfort has always been a huge part of any project's success. Obviously, such things as unique content and visually pleasing appearance matter. Still, the visitors will not like your website if it is not easy to navigate. That is why we decided to start with this point. Why is it important?
First of all, a smartly created navigation will help the guests of your online project quickly find exactly what they are looking for. As a result, you will save people's time easily. All in all, a satisfied visitor means regular visitor, so let's make your site a go-to place.
Secondly, a comfortable navigation makes your online project look professional.
What is more, don't forget about SEO! Actually, a solid navigation is the thing, which will help you to get higher rates from Google and other well-known search systems.
Given these points, you can be sure that a properly made navigation is the first step to the prosperity of your website. What should you start with? Here are several crucial web design tips for you.
Before all else, think about a sticky menu. As you may know, this simple feature will help your guests to work with the menu whenever they need. Thus, a visitor will not have to go back all the way to get another page.
Furthermore, we suggest you to create a small button that links to the main page. For example, it could be the logo of your company.
In addition, let's work with your footer. Make sure that you put there all the necessary information like contacts or social icons. To make a long story short, your footer should be a minimalist version of the main menu. Therefore, don't hesitate to add some links for blog, gallery, and other popular pages.
To end with, we suggest you to add a quick contact form. Without a doubt, a user prefers to contact you directly, so you can even add a live chat to the design of your pages.
2nd Web Design Tip: Don't Forget about Visual Hierarchy while Designing Your Website
Basically, statistics say that you have less than 10 seconds to catch an eye of a visitor. Seeing that, you need to make sure that this time would be enough to tell a guest what your site is about. How can you do it? Well this is our next web design tip for your professional website: you have to establish a clear hierarchy of website's content. For these simple reasons make sure that your texts are readable and the fonts are eye-friendly. Then put all the necessary information on the home page. Remember that brevity is the soul of wit. Here are some web design tips that will help you to create a strong visual hierarchy.
Firstly, use color and contrast to grab visitors' attention.
Then organize your content into sections, so you will be able to group related pieces of information together. For example, add the smart filters to website's design and create various categories and subcategories.
Moreover, you can showcase the most impressing pictures (or products) from your gallery right on the main page. You can do the same thing with the blog posts.
Finally, don't hesitate to use strips, columns, carousels, circle counters, infographics and other visual elements that will highlight your content. Without a doubt, all the mentioned elements look supreme.
We also recommend you to use the web fonts from one family, as they will look well-organized together.
3rd Web Design Tip: Make Sure that Your Main Page Is Minimalistic
Unquestionably, today you can find a terrifying amount of colorful, attractive, and inimitable online projects. As it was with that Mexican bar in 'From dusk till dawn', everyone can find something up to their taste effortlessly. So, why we recommend you to create a minimalistic home page?
To begin with, simplicity is always in vogue. A clean website looks classy and works well.
To say more, such design will help you to emphasize the most important information.
What is more, with the help of minimalist interface, you will also emphasize site's content without trouble.
Honestly speaking, a minimalist home page doesn't mean that you have to create a white or poorly designed interface. During the last years minimalism became a real web trend, so there is a rich variety of eye-pleasing designs for you. Furthermore, you are still able to use such elements as banners or call-to-action buttons. To sum everything up, do not overload your home page. It will let the visitors see the main information, so they will not be interrupted. As a result, people will do what they were going to do when they noticed your site in Google in a drop of a hat.
4th Web Design Tip: Make Sure That Your Content Is Easy-to-read
Well, we already told you about the importance of an easy-to-use navigation. Therefore, out next web design tip for a professional website if about your content. In a word, it should be easy-to-read. To make a long story short, it will be easy for the visitors to scan your online project and notice the needed info when the readability is high. Let's figure out how you can get it!
Can you remember these old sites? All of them seemed so uncomfortable thanks to a primitive color palette and truly small fonts. Back in our days, now even 14 pt fonts are hard to read online. Initially, we recommend you to keep the body text at least 16 pt. Still, don't forget that some examples of typography are really tiny, which means that 16 pt will not be enough. In this case, you can check your choice with the help of the rule of thumb.
Same to visual hierarchy, contrast is a vital thing for the readability of your content. Make sure that the background and text look harmonized together.
In addition, we recommend you not to use more than 3 different typefaces for a single online project.
5th Web Design Tip: Get a Highly Responsive Design
So, here is our last web design tip, which will help you to manage a professional website. As you can see from the point's name, all you need to do is to get a responsive design. Thanks to this must-have feature your website will work great in any browser. What is more, it will also look magically on any device with any screen size. As s result, you will quickly enlarge site's audience because people will not have the limits of location and time.
Gently speaking, today it is easy to run a responsive website. Thus, there is a fantastic variety of ready-made themes. To illustrate, you can view out these best WordPress themes for small business. By the way, all the screenshots are from these top-notch templates, so don't miss the boat. All in all, there are so many features to be seen!
To finish with, don't forget to leave your comment below. What do you think about these 5 web design tips? Do you use some of them for your online project? Is there something we have forgotten about? In this case, let us know your opinion!
Disclaimer: This post may include affiliate links. If you click one of them, we may receive a small commission at no extra cost to you. Thank you for your support.