Everyone knows that the most important thing in every beginning is to show oneself in the best possible light. That's why people made up a portfolio. Today it is not only a collection of papers and academic works, but it is also a representation of your lifestyle and point of view which you can share with other people. People also used it when they're looking for a job and just want to attract the attention of employers.
There are a lot of kinds of portfolios depending on hobbies, activities, and interests of people, but every portfolio has the same goal: to show your best side. Today, in the 21st century, it's quite customary to make own portfolio on the Internet. But making a portfolio on your own is a rather complicated thing and will definitely take you a lot of time. The most relevant question is how to choose the correct design for my website? For people who don't want to waste their time slaving at making up a design or at looking for hours for a suitable one, we have quite easy and advantageous solution – 20 best WordPress themes for illustrators from TemplateMonster Marketplace.
Why Choose WordPress Templates
WordPress themes are ready-made layouts created for WordPress — one of the most popular content management systems used for blogging, news websites and e-commerce projects. These templates are custom solutions for building an online resource from scratch or easily revamping an existing one. Taking our clients' needs into consideration, we have devoted a lot of time to creating the best possible offers. Regardless of your professional background or amount of computing skills, you will definitely succeed in installing and making alterations to your website. To make things even more simple, every theme is richly supplied with all the necessary documentation explicitly explaining every step of the installation process.
The Best Choice for Artists
Art is a way to communicate with people. It represents the artist's vision, or it stands alone and makes people express their emotions. But one thing stands – art is visual, and it's all about the visual. That is why it has to be presented in the right way. An online presence can speak volumes about the artist, but it is troublesome to create a website that will complement and not drive away the attention of the art. With that in mind, we present to you the Art Portfolio WordPress Themes. Those templates are created with your necessity in mind – presenting your art in such manner that it depicts your essence as an artist. These themes are very simplistic and elegant, with an aesthetically pleasing design and changeable color schemes.
Personal Blog WordPress Theme
Are you excited about starting blogging? The following personal blog WordPress theme will be the perfect choice for you! This modern layout with stylish carefully crafted design combines the style and functionality. Custom Widgets like Simple Slider, post carousel, and social media widgets will afford you easy and comfortable control over your page and attract many followers at the same time.
Everly – Hipster Blog WordPress Theme
This stylish and fully responsive template is able to satisfy even the most pedantic hipster. With the Beautiful and seamless design, revolution slider and optimized SEO this theme cannot leave anyone indifferent. We have also provided an Instagram feed which will definitely impress all the hipsters and bloggers.
VicHax – Designer Portfolio WordPress Theme
This amazing and fully adaptive Design Portfolio WordPress Theme will be a perfect choice for creators of all kind, who want to create a unique online portfolio, build a perfect image of their services on the web and present their professional skills with style. The full functionality including modern custom widgets and cherry plugins combined with the outstanding design will increase your fan-base and put your art to the top-level!
Moroseta WordPress Theme
Moroseta is a minimalist blog WordPress theme that offers a host of features. Its stylish minimalistic design attracts everyone's sight and suits perfectly for blogging and making a portfolio. This fully responsive blogging WordPress theme is absolutely widget ready and comfortable, so it's is very easy to manage and set it the way you want.
Videography Services WordPress Theme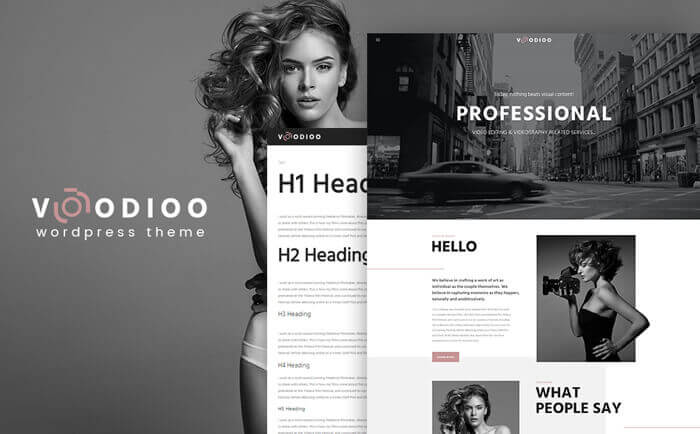 Voodioo is a fully responsive and well-documented videography services WordPress Theme that was crafted with care to help you showcase your passion to high-quality videos in the best light! This theme will make your visitors stop an eye at your website! It has a super cool background video and a trendy menu which is elegantly hidden behind a neat hamburger icon. With the modern custom widgets and useful tools, this template will definitely become an irreplaceable helper by making a professional video portfolio.
Fashion Blog Responsive Joomla Template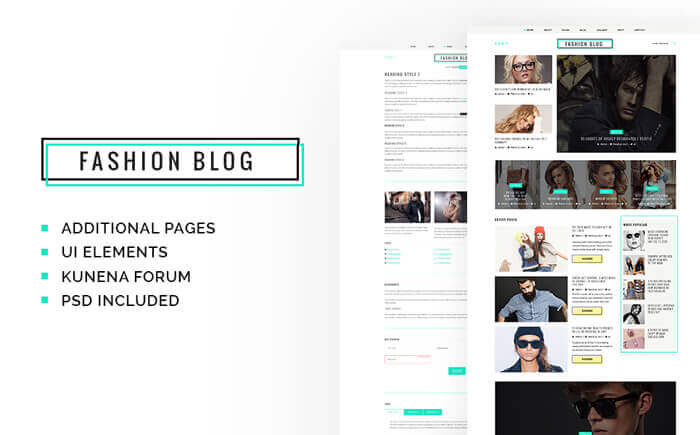 You have a fashion blog and want to share your passion with other people? This fully responsive Joomla Fashion Template is the perfect solution for you! Such features as additional pages and mega-menu will help you showcase your content in the best light. Use the full functionality of this template, attract visitors and make your own fan base!
Freelancer Photographer Portfolio WordPress Theme
This fully responsive and well-structured template is made for independent and perspective photographers who are eager to turn their business into something substantial. Suited both for freelancers and photography studios, the template has a clean minimalist style and includes a large number of pre-designed elements that you can implement on your website. Buy this theme and present your portfolio in the best light!
Defrozo Photographer Portfolio Moto CMS 3 Template
If you are looking for a WordPress theme to showcase your art in a professional and stylish way, then this template well be the perfect solution for you. Defrozo will please you with the all features you need to create an outstanding portfolio: drag-and-drop builder, 3 types of galleries, wide range of made-up presets and even a powerful photo editor. Present your art in all its splendor!
Photographer Portfolio Responsive Landing Page Template
One more well-documented and fully responsive theme for photographs who are eager to create a sublime portfolio. With the modern widgets and such additional features like social options, Google Web Fonts and Google Analytics you leave no chance for your competitors.
Web Design Company WordPress Theme
This WordPress theme with the outstanding stylish design was made for employers who are going to promote their web design business. It includes a lot of advantages like MegaMenu, MagicTouch and tons of content modules that will afford you to make an easy and effective promotion. Moreover, being fully cross-browser compatible, it allows your visitors to enjoy a great site's performance in any browser.
Magic – Multipurpose Creative WordPress Theme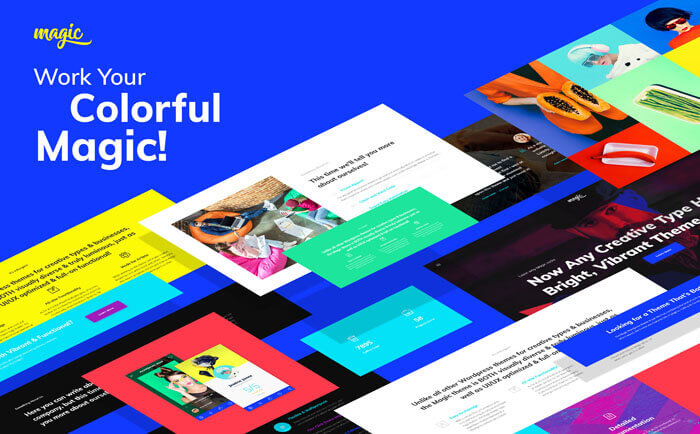 Who told you there is no magic? With our new outstanding theme, we'll assure you that it is! Astonish your visitors with colorful design and functionality. No matter what are you going to share with – there are 7 resplendent homepages will definitely be to your liking. In a short, this WordPress theme will help you with the creating a stylish and professional portfolio which for certain won't be ignored.
Photographer Portfolio Photo Gallery Template
Are you a photographer you are dreaming of your own photo gallery? Well, dreams come true! We are happy to present you Photographer Portfolio Photo Gallery Template which was created to help you organize your web gallery. This template is provided with all the modern features and widgets you need to create a stunning photo portfolio. In case you need a help there is a language support which supports the most widespread languages.
Liner – Creative Clean Portfolio WordPress Theme
Liner is clean, creative and powerful personal portfolio WordPress theme with incredible flexibility with lots of options and variations. Liner includes multiple layouts, creative blog, clean masonry portfolio, powerful admin panel 600+ Google font with support to upload your own fonts. Liner is the best choice for you to create a business, personal portfolio, photography portfolio.
Chela – A Minimal Agency WordPress Theme
Are you an agency owner and intending to make a page for your firm? Or maybe you are a freelancer who just wants to set a good portfolio? Anyway, you got lucky! WordPress Theme Chela will suit you perfectly. Chela is a super lightweight, minimal & modern theme perfect for agencies and freelancers. It is fully responsive and looks great on all devices.
Siena – Aesthetic Photography Portfolio WordPress Theme
Siena is an aesthetic and multifunctional theme for WordPress that helps you create a beautiful photo portfolio. Siena comes with three different concepts for portfolio, each one stands out with a different set of features to cover every style. It also has a full pack of features (dark mode, portfolio variations, video support etc.) which will help you to improve your page.
Designer Portfolio WP Theme
Scapex is an exterior designer portfolio theme for WordPress which is able to create an impactful image of your designer services on the web. This fully responsive and stylish theme is made to the most modern standards and it will definitely convert visitors into your clients.
Landscape – A Photography WordPress Theme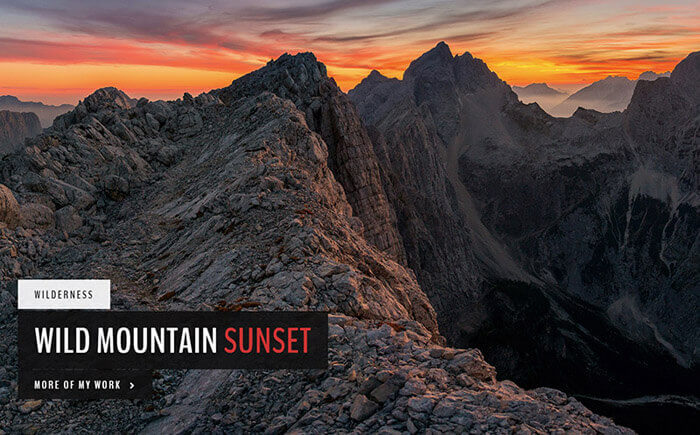 Landscape is a stylish template with the outstanding minimalistic design which will perfectly suit photographers who are going to create a stunning portfolio. It is completely focused on your pictures. Retina ready display will present your art in the best light and modern widgets will afford you to manage your page simply and with pleasure.
Professional Photographer WP Theme
This fully responsive and stylish theme with the outstanding design will be the perfect match for experienced photographers who want to astonish with their professionalism. This well-documented theme is provided with stunning TM gallery which will showcase your pictures in the best light. You also can use different additional pages to tell about your art and yourself in details.
Designer Portfolio WordPress Theme
Looking for a template that can breathe a new life into your landing page, portfolio or business card site? Designer Portfolio WordPress Theme will do the justice for every kind of online portfolio, creative designer, and artist sites. Clean code, custom widgets, multiple content modules and outstanding design are making just a small part of all its advantages.
Spacer – Photography Portfolio WordPress Theme
Spacer Photographer Theme is suitable for those who are engaged in photography, drawing or Digital graphics artists. A large set of variations, sliders and pages will help you nicely to submit their work or projects. You can easily and quickly create a personal stylish portfolio, which is necessary for every designer and photographer.
Do you want to know everything about website builders and what website builder you should choose? A site building process causes, as a rule, a lot of questions, especial for beginners. Do you want to clear the thing? So check out our free eBook! It is an ultimate guide that will serve you with all ins & outs of the most popular website builders that are really worth working with. Created by our professional TemplateMoster team it includes some advice which will definitely help you by choosing a suitable website builder. Interested? Try the link below!